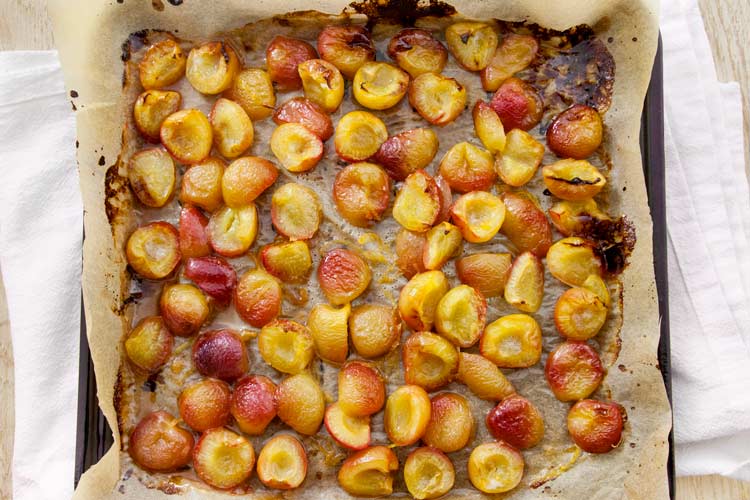 There's nothing better than peak season summer produce, especially cherries. We've got multiple kinds right now, including dark red Bing cherries, gorgeous local sour cherries, and sun-kissed yellow-orange Rainier cherries.
While cherries are delicious eaten fresh, sometimes it's nice to put a twist on summer fruit and one of our favorite ways to do that is by roasting cherries with a drizzle of honey to amplify their sweetness and caramel-like flavor.
Honey roasted cherries can be used to add a decadent note to all kinds of summer delights, from custards and cakes to ice cream sundaes and homemade popsicles. They're divine paired with savory dishes as well as sweet and can be used in place of jam in sandwiches or tossed into summer salads. We especially love roasted cherries dished over something creamy or cheesy, like baked brie or Greek yogurt, and then topped with toasted nuts and fresh tarragon.
We use Rainier cherries for this recipe because of their beautiful, yellow-pink hue and their not-too-sweet, not-too-tart flavor. Sour cherries also work wonderfully for roasting and baking, although you may have to increase the amount of honey used since they're less naturally sweet than Rainiers.
Honey Roasted Cherries
INGREDIENTS
1 lb Mount Rainier cherries
1 tsp honey
1 tbsp lemon juice
Zest of half a lemon
INSTRUCTIONS
Preheat oven to 350°F.
Wash and pit cherries with a cherry pitter or by using a paring knife to cut them in half and remove the pit.
Place pitted cherries on a baking sheet lined with parchment paper. Drizzle with honey, and then toss with lemon zest and juice.
Bake for 15 minutes or until cherries start to brown slightly at the edges.
Serve warm or let cool and store covered in the fridge for up to 4 days.