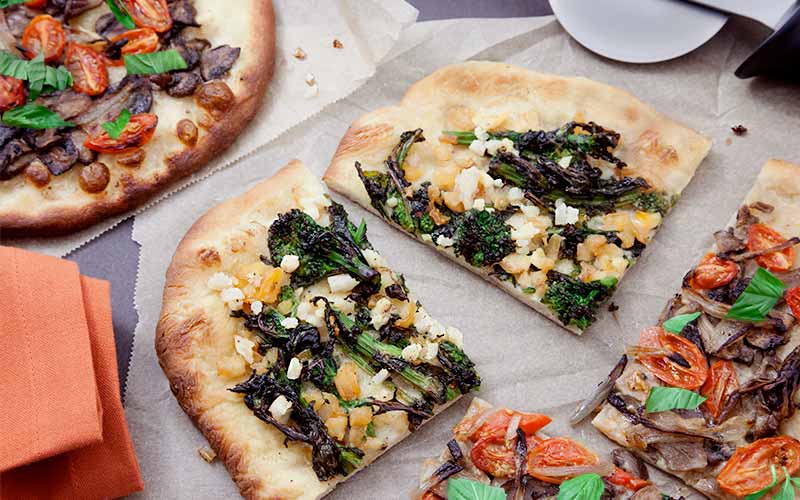 A fresh, delicious meal doesn't have to be complicated. Our Union Market brand premade pizza dough can find its way into your basket any time, then wait in the freezer until the mood for pizza strikes.
These personal-sized pizzas are great for enjoying individually, but even better to share, with two topping combos that complement each other perfectly. Both start with a buttery crème fraiche base that lets the unique toppings shine. And if you'd like to add your own spin, substitute the crème fraiche with any soft white cheese, like our locally produced Salvatore Bklyn ricotta and Lioni mozzarella.
For our vegetarian option, we use toppings like earthy mushrooms and onions to complement the bright, acidic flavor of cherry tomatoes. Freshly torn basil adds a fragrant summery note.
Get your summer seafood fix with our clam and broccoli rabe pizza. Chili flakes add a little extra kick that rounds out the flavors of the salty minced clams and the nutty broccoli rabe.
These recipes double (or triple) well if you're feeding more than two people—simply pick up an extra ball or two of Union Market pizza dough from our freezer section. Feel free to experiment with toppings, too!
Sheet Pan Pizza Two Ways
Makes 2 10-inch pizzas
INGREDIENTS
Dough
7 oz. ball of premade Union Market pizza dough, throughly thawed to room temperature if frozen and divided in half
½ cup all-purpose flour (for dusting your working surface)
Tomato, Mushroom & Basil Pizza
¼ lb (½ cup) mixed mushrooms, sautéed in olive oil
1 small red onion or spring onion, sliced thin
6 cherry tomatoes, cut in half lengthwise
4-5 fresh basil leaves, roughly torn
½ cup crème fraiche
1 tbsp extra virgin olive oil
Salt and pepper to taste
Clam Pizza with Broccoli Rabe & Chili Flakes
3 oz. minced clams such as Cento Minced Clams, drained well
½ lb of broccoli rabe, sautéed in olive oil
1 teaspoon chili flakes
½ cup crème fraiche
1 tbp extra virgin olive oil
Salt and pepper to taste
INSTRUCTIONS
Note: if using frozen pizza dough, you'll want to make sure it's room temperature before you start working with it. We recommend thawing it overnight in the refrigerator and then letting it sit out on the counter for about an hour to let it come up to room temperature.
Preheat the oven to 400°F with a clean baking sheet inside. For best results, let the oven and sheet pan heat up for at least 30 minutes.
Lightly dust your work surface with flour and use your hands to shape each half of the pizza dough into an even, flat disc. Dust with flour as needed to prevent sticking. With the side of your hand or a rolling pin, roll or stretch the dough until it's thinner and about 12 inches in diameter. Don't worry if you can't get a perfectly even circle.
Turn up the oven to 475°F.
Spread ½ cup of crème fraiche evenly on one piece of dough, leaving a half-inch border for the crust, and then place the sliced onion, tomatoes, and sautéed mushrooms on top of the crème fraiche. Season with salt and pepper and drizzle with 1 tbsp olive oil.
Do the same with ½ cup crème fraiche on the second piece of dough, and then top with the clams, sautéed broccoli rabe, and chili flakes. Season with salt and pepper and drizzle with 1 tbsp olive oil.
Carefully remove the hot baking sheet from the oven, closing the oven door to keep the heat in. Immediately transfer both pizzas to the preheated baking sheet (having a well-floured work surface will help) and then place the baking sheet back in the oven on the top rack. Cook for 12-15 minutes.
Remove from the oven and top the tomato-mushroom pizza with the fresh basil and, if desired, the clam pizza with a few dollops of crème fraiche.