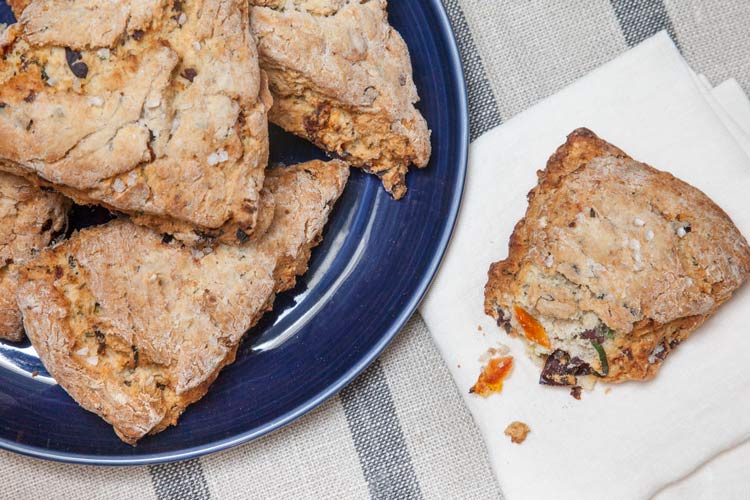 It may feel like the end of summer, but technically we've still got a little more time left until it's officially autumn. These Mediterranean-inspired savory scones are the perfect way to transition from the bright flavors of summer to the more earthy, rich flavors of fall.
Studded with sun-dried tomatoes and cured black olives, and brightened up by fresh herbs and lemon zest, these scones make a great complement to your next breakfast or brunch. Serve them with eggs, with some fresh ricotta and mozzarella.
Savory Late Summer Scones
Makes 8 large scones
INGREDIENTS
3½ cups all-purpose flour, plus more for dusting
¼ cup sugar
2¼ teaspoons baking powder
¾ teaspoon baking soda
½ teaspoon kosher salt
1 garlic clove, minced
1 tsp fennel seeds
1 teaspoon lemon zest (about 1 small lemon)
¾ cup unsalted cold butter, cut into ½-inch cubes
¾ cup sundried tomatoes chopped
⅓ cup cured black olives, chopped
⅓ cup capers, chopped
5 basil leaves, finely sliced
1 tsp thyme, chopped
1 pinch freshly ground black pepper, plus more for garnishing
1 pinch red pepper flakes
¾ cup buttermilk, plus more as needed
1 large egg, beaten with a fork
2 pinches Maldon salt, for garnishing
INSTRUCTIONS
Preheat the oven to 375°F. Line a baking tray with baking paper.
Put the flour, salt, black pepper, baking powder, baking soda, garlic, and fennel seeds in a large bowl and stir to combine.
Add the butter and use your hands to work the butter into the flour mixture until it resembles coarse breadcrumbs.
Stir in the sundried tomatoes, olives, basil, thyme, lemon zest, capers and red pepper flakes until they are coated with dough.
In the bowl, make a well in the middle of the dough and then add the buttermilk and egg. Mix with a wooden spoon until well combined with the dough (about one minute), being careful not to overwork the dough. If at this point your dough seems too wet, you can add more flour 1 tbsp at a time, up to ½ cup.
Lightly dust your work surface with flour and place the dough on it. Knead briefly, no more than 6-8 movements, in order to form the dough into a ball. Wrap the dough in plastic wrap and chill in the refrigerator for 20 minutes.
Remove the dough from the fridge and, leaving it in the plastic wrap, flatten it slightly to make into a disc about 1½ inches thick.
Unwrap the dough and cut it into 8 triangular pieces (same as you would cut a pizza).
Place the scones on the baking tray, brush lightly with olive oil. Sprinkle with pepper and Maldon salt, and bake for 25-30 minutes, until crusty and golden brown.
Let cool before serving.