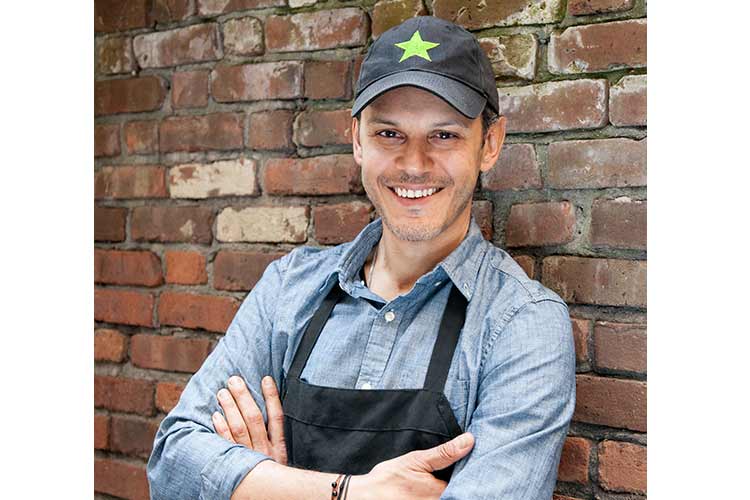 We're delighted to announce that Chef Sandro Romano has joined Union Market as our new Culinary Director and Executive Chef. Sandro honed his craft at some of New York City's best restaurants and brings his creativity and genuine love of food to Union Market's Park Slope kitchen.
Chef Sandro is leading the expansion of Union Market's culinary programs, which include everything from enhancing the selection of housemade ready-to-eat food in our stores to increasing our sourcing of local and sustainable ingredients to eventually developing an education space and open kitchen where Union Market can host community events, cooking classes, workshops, and special meals.
Sandro originally hails from Switzerland, though he now calls South Slope home. He's worked as Executive Chef at Union Square Café, Tuscan, and Armani Ristorante, as well as Chef de Cuisine at Eleven Madison Park and the Modern. We're thrilled to be working with a chef of his caliber and enthusiasm, and if you've noticed some delicious new dishes at our Prepared Food counter, you've got Chef Sandro to thank! You can read more about Chef Sandro and his vision for Union Market in this profile in Edible Brooklyn, and check out some of his recent spring recipes here.
On Sunday, May 1st, 2016, you can meet Chef Sandro in person during the Fifth Annual Food Book Fair at the Wythe Hotel in Williamsburg, Brooklyn. Union Market is a proud sponsor of the Food Book Fair—a can't-miss event for anyone interested in food, eating, cooking, and writing.
The Food Book Fair features panel discussions, activities for kids, and the ever-popular Foodieodicals food 'zine fest where you'll be able to meet the folks from Cherry Bombe, Diner Journal, Edible, Gather, Lucky Peach, Sweet Paul, Life and Thyme, and many more. Click here for a look at the complete program.
Day pass holders to the Food Book Fair get a complimentary breakfast and a boxed lunch from Union Market, prepared by Chef Sandro. The delicious and healthy breakfast includes, among other treats, our seasonal beluga lentil salad with rainbow carrots and smoked tofu, slow-poached organic local eggs, heirloom baby potato salad with goat cheese and celery, and fresh croissants. And for lunch, enjoy a quinoa salad with spring vegetables and either slow-roasted salmon or a vegan zucchini roll with smoked tofu mousse. Get your day passes and tickets here.
The Food Book Fair is a great opportunity to join a dynamic and fascinating conversation—and to indulge in some delicious local food and drinks! We'll be there to talk shop and sample some of Chef Sandro's seasonal spring dishes as part of the Foodieodicals event from 2PM-6PM on Sunday, May 1st, 2016. We'd love to see you, so stop by our table and say hello!