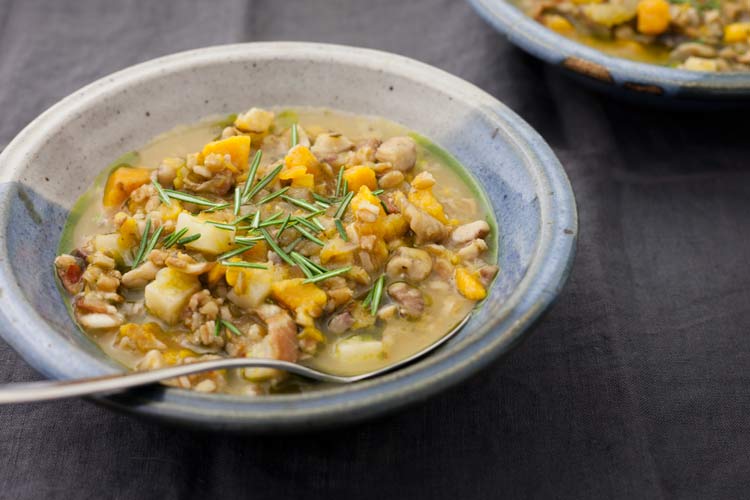 Cooler weather means it's time for soup season once again—one of our favorite times of the year!
The bounty of the fall makes this the perfect time for a hearty and warming soup filled with beautiful autumn produce. This recipe features richly flavored chestnuts and aromatic rosemary, along with tender butternut squash for a sweet, comforting note and farro for a nice toothsome bite.
Butternut is one of the most versatile and widely available squashes and it's easy to find peeled and pre-cut. But if you want to get creative and try this recipe with another of the delicious squash varieties we carry, feel free! This soup also works wonderfully with pumpkin, another of our fall favorites.
This dish comes together quickly and with minimal fuss, so you can prepare it while you're busy with other things in the kitchen, too. It's great for making ahead of time—just reheat gently over a low flame when you're ready to serve it.
Chestnut, Farro & Butternut Squash Soup
Serves 4-5
INGREDIENTS
1 lb roasted and peeled whole chestnuts (we like Blanchard & Blanchard Organic Roasted & Peeled Chestnuts or La Forestiere Roasted Whole Chestnuts)
1 16-oz package peeled and cubed butternut squash
1 garlic clove, peeled and crushed
2 garlic cloves, peeled and chopped
1 tsp chopped fresh thyme
1½ qt chicken stock
1 cup farro soaked in cold water for 2-6 hours
3 tsp olive oil
1 small onion, peeled and chopped
½ medium-sized celeriac peeled and cut into small dice
1 cup pancetta, cut into ¼-inch dice
1 tsp rosemary chopped
1 tsp dried chili flakes
For garnish:
Extra virgin olive oil
Fresh rosemary
INSTRUCTIONS
A few hours prior to cooking, soak 1 cup of farro in cold water. Let the farro soak at least 2 hours for best results; it can be left to soak for as long as 6 hours.
Preheat the oven to 375°F.
Toss the peeled and cubed butternut squash with olive oil, thyme, crushed garlic, and salt. Place on a baking sheet on the middle rack of the preheated oven.
Bake for 15 minutes or until the squash is cooked through and tender when you poke it with the tip of a paring knife.
Drain the farro that has been soaking in water. Cover with fresh cold water in a medium saucepan and bring to a boil. Cook for 20 minutes till done but still slightly toothsome. Drain and keep aside.
Cut the chestnuts in half and set aside.
In a wide saucepan, heat the olive oil over medium heat till it begins to shimmer. Add the pancetta and cook slowly for about 10 minutes, letting the fat slowly render out of it.
Add the onion and celeriac and let cook slowly for 5 minutes.
Next, add the chopped garlic, chopped rosemary, and chili flakes and cook for an additional 5 minutes.
Add the halved chestnuts to the pan and cook slowly for 10 minutes.
Add the butternut squash and cook for 5 minutes before adding the chicken stock.
Bring the mixture to a boil and let cook for 5 minutes more.
Finally, add the cooked farro and season with salt and pepper to taste.
To serve, drizzle with a fine olive oil and garnish with some fresh rosemary.