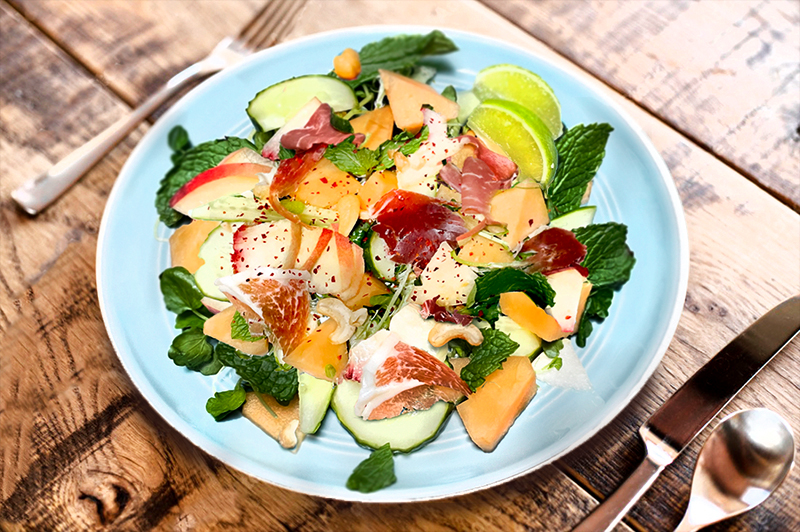 Stone fruit and melons are abundant, and we've got a salad to elevate the sweet and delicious summer bounty.
Savory prosciutto, juicy melons and peaches, spicy, bitter watercress, and a crunchy topping of crushed roasted cashews all work together to make a quick and delectable salad that is perfect for a hot, lazy midsummer day. A drizzle of zesty Aleppo lime dressing adds a subtle heat and zippy bite you didn't know your summer fruit needed.
This vibrant dish comes together in minutes and is perfect as an al fresco lunch or a light dish for your next dinner party.
By Sarah Diebboll
Serves 6 to 8
INGREDIENTS
For the Dressing:
juice and zest of 1 lime
1 teaspoon Aleppo pepper
Salt to taste
5 tablespoons extra-virgin olive oil
For the Salad:
1/3 lb thinly sliced prosciutto
6 oz. or about 6 cups of watercress
1 white peach
1 cantaloupe
2 Kirby cucumbers
3 tablespoons crushed cashews
3 tablespoons mint roughly chopped fresh tarragon
INSTRUCTIONS
Whisk together lime juice and zest, salt, Aleppo pepper, and olive oil.
Cut cantaloupe in half and remove seeds. Chop the interior into small wedges. Pit and cut your peach in half-moons. Peel and chop cucumbers into thin slices. Place in a mixing bowl and toss with 2 tablespoons of the dressing.
Roughly chop nuts and mint and set aside.
Arrange your watercress on a large platter so it covers the entire dish. Top the greens with your dressed fruit. Roughly tear bite-sized pieces of prosciutto and scatter them over the fruit. Drizzle on the remaining dressing. Top with crushed nuts and mint and serve.
Note: You can swap the watercress for peppery greens like arugula. If you don't have cashews, you can substitute them with any nut—we suggest walnuts or pine nuts. We use a white peach to counter the sweetness the melon gives, but any peach variety will be just as delicious.