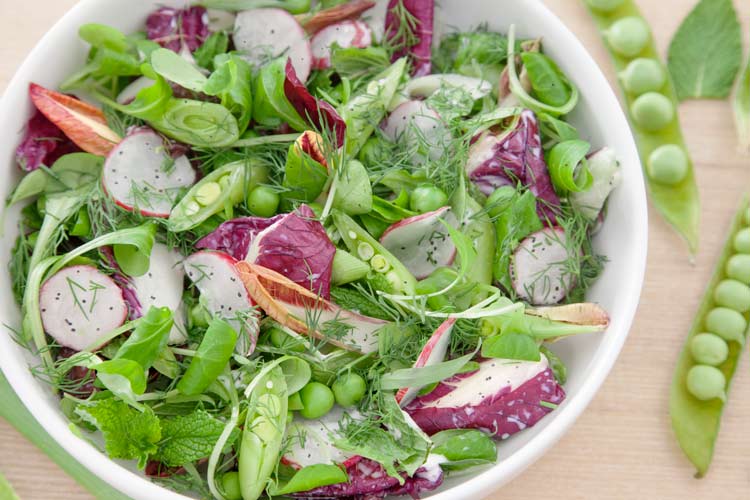 With Mother's Day just around the corner, what better way to celebrate the moms in your life than with food! This beautiful salad highlights some of our favorite seasonal spring produce: sweet English peas, crisp spring onions, zesty radishes, crunchy snap peas, and loads of fresh herbs.
It's tossed with a bright and tangy lemon poppy seed dressing that's easy to make and complements fresh spring flavors superbly. Serve it with mimosas and some poached eggs or avocado toast and you've got the perfect Mother's Day brunch or breakfast in bed.
This recipe serves four as a side or two as a main dish, and it can be made vegan by replacing the Greek yogurt in the dressing with a coconut-based option like Anita's.
If cooking isn't in the cards this Mother's Day, not to worry! We've got plenty of other options for indulging Mom. To satisfy her sweet tooth, we have artisanal chocolates from local favorites like Nunu Chocolates, Cacao Prieto, Mast Brothers, and Jacques Torres, as well as our fresh-baked pastries, cakes, cupcakes, and petit fours.
Of course, no Mother's Day would be complete without flowers. Luckily we've got a range of gorgeous bouquets and roses from Dutch Petals on Long Island to help brighten Mom's Day.
Happy Mother's Day!
Spring Salad with Radishes, Peas & Herbs
Serves 2-4
INGREDIENTS
2 cups of radicchio, Treviso, red endive or chicory, rinsed, dried and roughly torn
2 cups mache or baby greens, rinsed and dried
1 cup fresh sweet peas (English peas), shelled
3 radishes, sliced thin
1 spring onion, sliced thin on the bias
1 cup sugar snap peas, sliced thin on the bias
1 small bunch of mint leaves, torn into large pieces
3 tbsp tarragon, roughly chopped
3 tbsp fresh dill, roughly chopped
Dressing:
1/3 cup Greek yogurt
2 tbsp extra virgin olive oil
Juice of 1 lemon
1 tbsp honey
2 tsp poppy seeds
1 tbsp fresh dill, roughly chopped
½ tsp salt
INSTRUCTIONS
Combine all the ingredients for dressing in a jar and shake until well-combined.
Bring a small pot of water to boil and blanch the sweet peas for 2 minutes or until they turn bright green. Submerge them immediately in ice water and drain when cooled.
Add the blanched sweet peas to a large bowl, along with the radicchio and greens, snap peas, radishes, and spring onion, and then add the dressing and toss well to coat the salad. Add the mint, tarragon, and dill and very gently toss once more, just enough to mix the herbs into the salad.
Serves 2 people as a main dish or 4 people as a side.