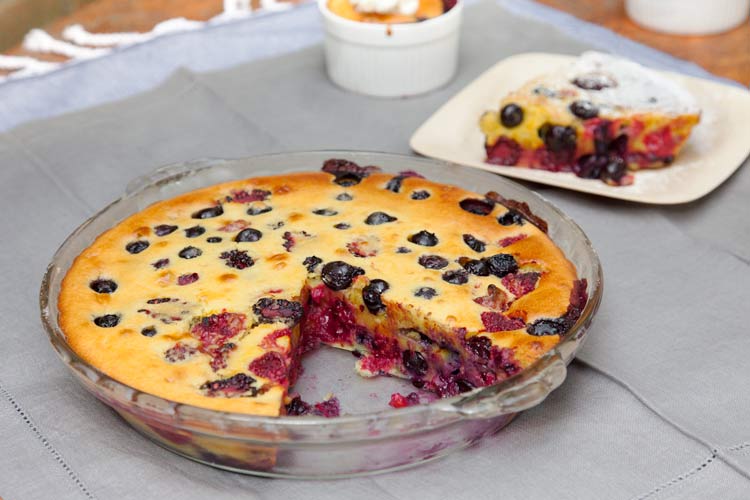 Summer berries need so little help to make them shine, and we think this simple and elegant French clafoutis is the perfect vehicle for their intense, fruity sweetness.
Half-custard and half-cake, clafoutis is a breeze to make, cooks in less than half an hour, and is light enough to justify adding it to your regular baking rotation this summer.
And the cherry (or berry!) on top of this delectable confection is the hint of saffron in the batter, which raises the dish from the merely delicious to the truly sublime.
A slice of this served with a dollop of whipped cream or fresh ricotta—or a big scoop of ice cream—is pure summer perfection.
Berry and Saffron Clafoutis
Serves 4–6
INGREDIENTS
3 large whole eggs
2 egg yolks
2 tsp saffron threads
1/2 cup granulated white sugar
6 tbsp unsalted butter, melted, and cooled slightly, plus more to grease baking dish
1½ cup all purpose flour
Pinch of salt
1 cup whole milk
½ cup mascarpone
½ tsp almond extract
2 tsp brandy or dark rum (optional)
2 generous cups mixed berries (raspberries, blueberries, pitted cherries)
INSTRUCTIONS
Grease a 9-inch glass or non-stick baking dish with butter and set aside till ready to use.  Alternately, you can use an oven-safe skillet.
Preheat the oven to 375°F with a rack placed in the middle.
In a large metal or glass bowl, whisk together the sugar, saffron, whole eggs, and egg yolks till the mixture thickens and turns a light, canary yellow.
Add the melted butter to the beaten egg mixture, whisking constantly to make sure that it is evenly incorporated.
Add the flour and salt all at once and whisk till the flour is thoroughly mixed in.
Pour in the milk and add the mascarpone, beating well to make sure that the mascarpone is well incorporated.
Add the almond extract, brandy or rum (if using), and blend well. The batter should be smooth and glossy.
Place the berries in the bottom of the buttered dish. Pour the batter over the fruit.
Bake for 25 to 30 minutes, until slightly browned in spots and almost completely set in the middle.
Let the clafoutis cool for at least 15 minutes before dusting with powdered sugar and serving with whipped cream, ice cream, or fresh ricotta.