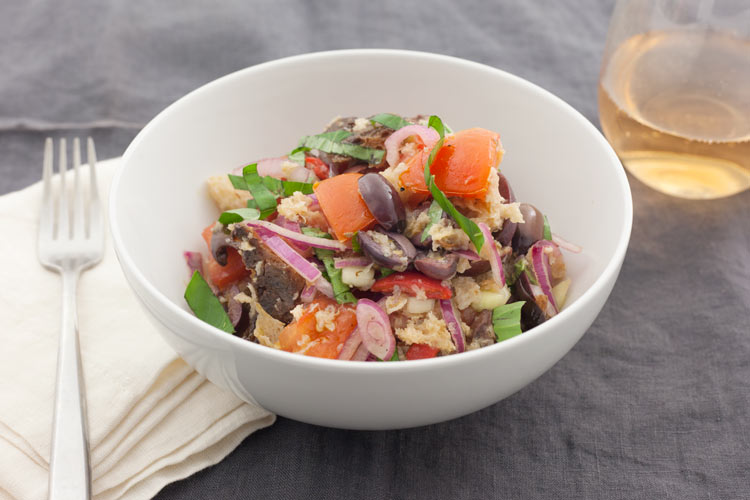 Our panzanella salad is the perfect showcase for beautiful summer produce as well as a miraculous way to revive bread that's gone a little stale.
We use Pain D'Avignon's crusty and airy pane francese to lend some welcome heft to this light but flavor-packed meal and to help soak up all the juices from the ripe, peak-season tomatoes, but any rustic peasant bread or sourdough would work here.
Capers, olives, and a large handful of basil add a bright, herbal element to this salad so that it has a little of all the things you start to crave when the heat kicks in and the market is overflowing with gorgeous tomatoes, cucumbers, and peppers. We also toss in a handful of arugula for a peppery jolt to help round things out, and for a vegan version, just omit the ricotta salata.
What more could you ask for—an excuse to eat local, sun-kissed tomatoes all summer long and an ingenious way to use up all those heels of bread you have lying around!
Panzanella Salad
Serves 4
INGREDIENTS
4 slices of dry, slightly stale pane francese bread, cut into ½-inch-thick slices
Kosher salt and freshly ground black pepper to taste
½ cup pitted Kalamata olives, cut in half length-wise
¼ cup red wine vinegar
1 tablespoon drained capers
1 garlic clove, peeled and finely minced
½ cup extra virgin olive oil
1 cup peeled, trimmed, and thinly sliced red onion
5 ripe medium heirloom tomatoes, washed, trimmed, and cut into 1-inch pieces
1 red bell pepper, seeded, trimmed, and julienned
1 cucumber, peeled, seeded, and cut into small dice
⅓ cup chopped fresh basil leaves
1 handful wild arugula
¼ cup shaved ricotta salata (optional)
INSTRUCTIONS
Fill a medium bowl with ice-cold water. Break the bread into large pieces and soak in the water for 10 minutes, making sure that the bread is fully submerged.
Remove the bread from the ice water. Thoroughly squeeze out all the water and set aside on a double layer of paper towels.
In a large bowl, whisk together the vinegar, capers, and minced garlic. Season to taste with salt and black pepper. Add the olive oil to the vinegar mixture in a steady stream, stirring as you do, to ensure that it's well incorporated.
Next, add the olives, bell pepper, cucumber, basil, sliced red onion, and tomatoes to the vinaigrette. Mix to coat all the ingredients thoroughly.
Tear the bread into bite-sized pieces and add it to the bowl along with the handful of wild arugula. Toss gently, check for seasoning and serve immediately, topped with a garnish of shaved ricotta salata.