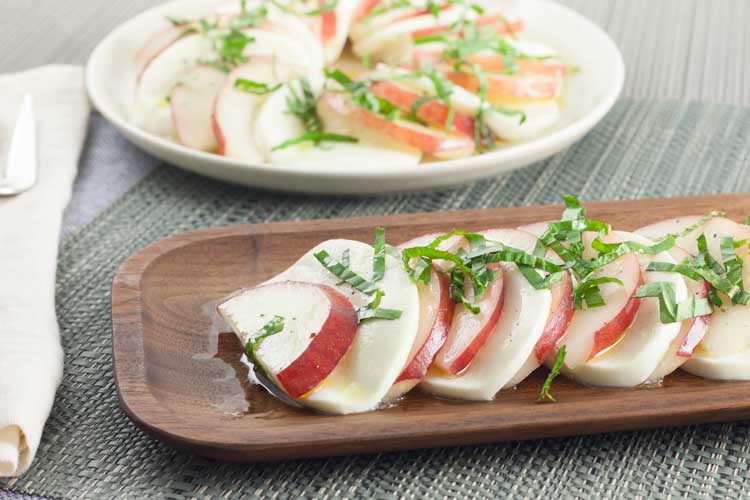 Sometimes the best thing you can do with a beautiful ingredient is let it shine in a recipe that's simple perfection. It's the perfect time to enjoy luscious farm-fresh peaches, and there are few better ways to relish them than in our summer spin on Caprese salad.
This recipe was created with the unbelievably fresh, Brooklyn-made mozzarella from our friends at Lioni in mind. Their creamy, decadent cheese is the perfect foil to sweet and juicy peaches, which are gently tossed with vinaigrette and then elegantly arranged with the mozzarella and fresh herbs.
It's a dish that you'll be able to conjure up in a matter of moments without even looking at your stove and its delicate flavor will have you coming back to it all summer long.
Peach Caprese Salad
Serves 4
INGREDIENTS
2 medium-sized balls Lioni fresh mozzarella (1 lb total)
2 ripe medium-sized white peaches (or another variety if white peaches are unavailable)
4 tbsp extra virgin olive oil (plus more for drizzling)
2 tbsp sherry vinegar
8 basil leaves, thinly sliced
4 mint leaves, thinly sliced
1 tsp each, salt and freshly ground black pepper
INSTRUCTIONS
Wash the peaches gently under running water. Using a paring knife, split them in half and remove the pits.
Slice the halved and pitted peaches into even slices, each about ⅛ of an inch thick.
In a medium bowl, combine the oil, vinegar, salt, and pepper.
Tip the peach slices into the vinaigrette and toss gently to coat. Let marinate for 5 minutes.
While the peaches are marinating, cut the balls of mozzarella into slices the same thickness as the peaches.
On a large serving platter (or on 4 individual dinner plates), arrange the peach and mozzarella slices, alternating the fruit with the cheese so that they overlap slightly.
Drizzle the arranged peaches and mozzarella with the remaining vinaigrette, scatter with the finely sliced basil and mint, and drizzle with extra virgin olive oil. Season with extra salt and pepper as needed.
Serve at cool room temperature.