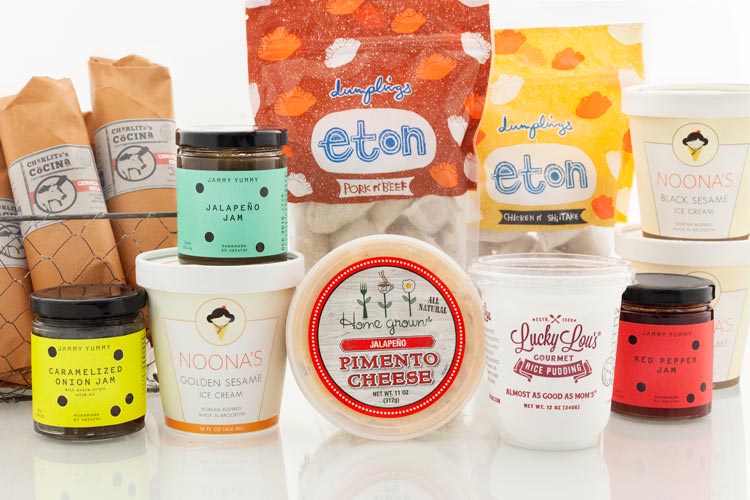 Our selection of "Market Picks" is one way we try to highlight the excellent new finds featured in our stores.
In this installment of our Market Picks, we're delighted to share a fantastic selection of new products with you—some of them from right here in New York City and some that we've brought from small-batch producers around the country—along with information about what makes them so special.
Read on for the full scoop on which items to look out for the next time you're at Union Market.
Charlito's Cocina Sausages
This fantastic range of Spanish-inspired charcuterie is all made by hand right here in New York City using only pasture-raised, heritage-breed pork and the finest hand-harvested fleur de sel. Each sausage is hand-numbered as a testament to the care and attention that goes into every product that leaves Charlito's Cocina. Their Trufa Seca Dry Cured Black Truffle Sausage is particularly amazing!
Lucky Lou's Gourmet Rice Pudding
You can now get a taste of the Long Island institution that is Lucky Lou's Gourmet Rice Pudding without ever getting on the expressway. All of our Union Market stores now carry this local favorite, made with all US-grown premium rice, milk from grass-fed cows, and pure cane sugar.
Noona's Korean-Inspired Ice Cream
Local New York City-made ice cream with a Korean flair. Made with nothing but milk from sustainably raised grass-fed cows and the best natural and organic ingredients, Noona's unique range of flavors are a little Korean, a little American, and 100% guaranteed to bring a smile to your face.
Although Brooklyn Chef Eton Chan's acclaimed restaurants are no longer around, fans can still enjoy his signature handmade dumplings. We've already stocked up on these locally made delicacies in our frozen-food section, so stop by to pick up a box or two for a flavor-packed trip down memory lane.
These vegetable-based jams will change the way you look at jams (and vegetables!). Bridging the gap between sweet and savory, and made with farm-fresh produce in a variety of intriguing flavors, these exquisite spreads are the perfect addition to a cheese board, an open-faced sandwich, grilled cheese, or even just spooned into a bowl and gobbled up with your favorite cracker.
Home Grown Pimento Cheese
These cheesy, spicy spreads come from Home Grown, the Atlanta restaurant famous for its biscuits and its pimento cheese. While you can't buy their biscuits in New York yet, at least you can console yourself with their delicious pimento cheese, which packs a wallop and is perfect on sandwiches, as a dip for summer veggies, or as a spread for crackers.