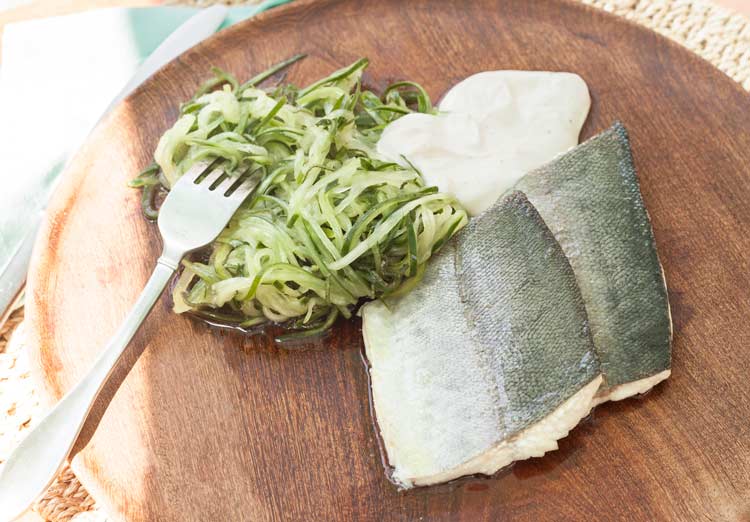 Fresh rainbow trout, with their fine texture and distinctive flavor, are one of the heroes of the summer kitchen. They can be cooked in no time at all, so you spend less time in front of a hot stove.
The tangy and smoky yogurt sauce in this dish comes together in minutes and is the perfect foil to the refreshing, herbal cucumber salad and crisp, flavorful fish. And it's so good you'll want to keep making it all summer long!
This dish combines the ease and convenience of a perfect summer recipe with a depth and complexity that will make it a staple in your kitchen no matter what the season.
Roasted Trout with Cucumber Salad and Smoked Greek Yogurt
Serves 4
Ingredients
Trout
2 one-pound whole rainbow trout, cut into 4 filets by your fishmonger
2 tsp olive oil
Salt and pepper to taste
Yogurt Sauce
1 cup Greek yogurt
1 tbsp lemon juice
1/3 tsp cayenne
1 tbps olive oil
1 tsp liquid smoke
Salt to taste
Cucumber Salad
2 medium English cucumbers
1 tbsp extra virgin olive oil
1 tsp salt
2 tsp finely chopped sage
Instructions
Preheat the oven to 400°F.
Prepare the yogurt by mixing all the ingredients for the sauce together and setting aside in the refrigerator.
To make the cucumber salad, use a Japanese mandoline with the small julienne blade installed. Grate along the length of the cucumber to form long spaghetti-like strands. Continue until the seeds at the center become visible, then rotate the cucumber and start on a fresh side.
Combine the cucumber with the olive oil, chopped sage, and season to taste with salt. Set aside in the refrigerator until needed.
Season the flesh side of the trout with salt and pepper. Brush both the skin and flesh sides of the fish with the olive oil making sure the flesh side is liberally coated to ensure that it gets crisp in the oven.
Place the trout skin down on a sheet of nonstick parchment paper.
Roast for 7 minutes before removing from the oven. Let the filets rest for a minute before flipping them and serving with the cucumber salad and a dollop of the smoked yogurt on the side of each filet.