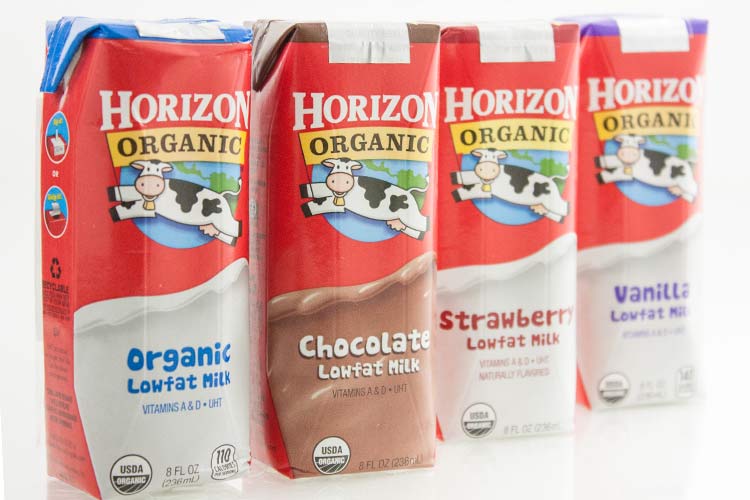 Labor Day weekend is here and school is just around the corner…which means summer is almost over!
You can take heart, though. Union Market has all the supplies you'll need to carry summer fun into the fall and the school year. In fact, right now we've got lots of specials to help you start the school year off right.
Stop by any of our stores to stock up on our housemade Snack Boxes, healthy bites, and wholesome treats to liven up lunchboxes and snack time. Some of our favorites include:
HORIZON ORGANIC MILK BOXES
Perfect for lunchboxes! A great-tasting way to add calcium your child's diet—and a wholesome, protein-packed alternative to juice boxes. Available in Plain, Chocolate, Vanilla, or Strawberry.
On Special: 4 for $5.00
Through 9/14/16
ANNIE'S SNACK PACK BUNNY GRAHAMS
Nothing could be easier than Annie's Bunny Grahams individual snack packs. Made with whole grains, organic wheat, and no artificial flavors or preservatives, kids (and adults!) love to snack on this crunchy treat.
On Special: 2 for $7.00
Through 9/14/16
APPLEGATE SLICED DELI MEATS & CHEESES
Pre-sliced sandwich fixings that are hormone-free, antibiotic-free, and super tasty. Your little ones will love it, and you may even find yourself taking a sandwich to work, too.
Organic not included.
On Special: $1.00 OFF
Through 9/14/16
UNION MARKET 1 YEAR AGED VERMONT CHEDDAR
Produced by a dairy cooperative with 100% Vermont milk and vegetarian-approved rennet. Dense, buttery, and tangy, this classic cheddar is fantastic with tart apple slices or crunchy crackers.
On Special: $1.00 OFF
Through 9/14/16
SUNBUTTER SUNFLOWER SEED BUTTER
Looking for an alternative to the classic PB&J for your allergen-restricted school? Try nut-free SunButter, a delicious sunflower seed spread that's great for sandwiches and is free of all 8 of the top food allergens.
HONCHOS CHIPS
These gluten-free, GMO-free chips by Deep River Snacks are a more wholesome alternative than you typical corn chips, and they come in fun flavors like Nacho Cheese, Ranch, and Peach Habanero, all available in single-serving 1.5 oz. bags.
STONYFIELD ORGANIC YOKIDS SQUEEZERS & POUCHES
Perfectly portioned to carry to school and made with real fruit and certified organic milk. The great taste you love from Stonyfield in a kid-friendly package.
STRETCH ISLAND CO. FRUIT STRIPS
Individually packaged fruit leathers that are easy to carry, full of the goodness of naturally sweet fruit and have no added sugar. Fruit-forward flavors include Orchard Cherry, Autumn Apple, and Summer Strawberry.
Don't have time to put together delicious and healthy snacks for your kids? Don't worry about it, we've got you covered. Choose from our range of pre-packed snack boxes and ensure your kids have something nourishing to eat when lunchtime rolls around.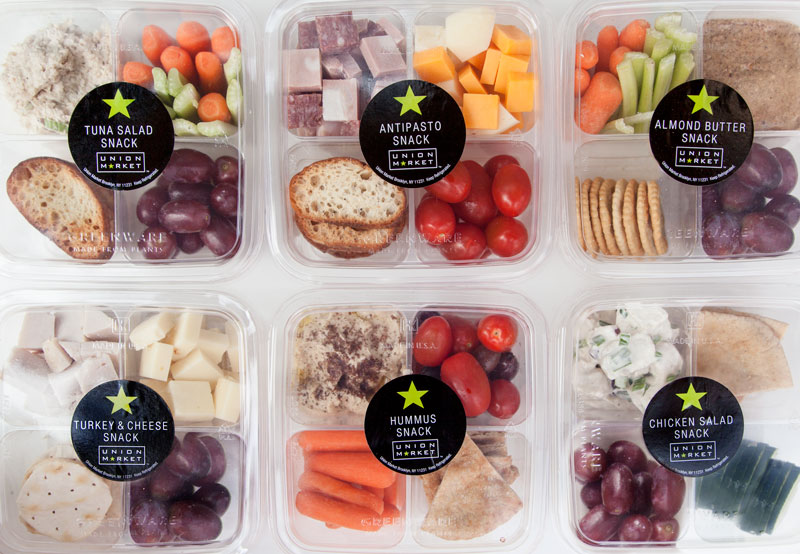 ANTIPASTO SNACK BOX 
A selection of cubed cheeses and meats, packed with grape tomatoes and crostini
TURKEY & CHEESE SNACK BOX 
A mix of cubed turkey and cheese, along with red grapes and crackers
TUNA SALAD SNACK BOX 
Comes with our housemade tuna salad, and celery sticks, crostini, and baby carrots for dipping, as well as red grapes for that little something sweet
CHICKEN SALAD SNACK BOX 
Packed with our housemade chicken salad, sliced cucumber, whole-wheat mini pita triangles, and red grapes
HUMMUS SNACK BOX 
A healthy serving of our Union Market hummus, along with baby carrots, kalamata olives, and whole-wheat mini pita triangles
ALMOND BUTTER SNACK BOX
A generous scoop of almond butter packed along with celery sticks, baby carrots, red grapes, and crackers