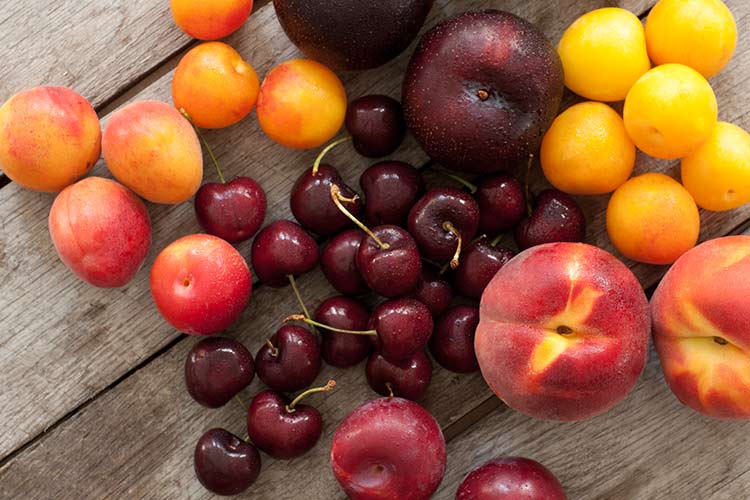 Stone fruit, berries, cherries, and melons dominate the summer fruit harvest, some of it coming in from nearby growers from Long Island, New Jersey, and the Finger Lakes region. While all this lovely local fruit is probably most satisfying when eaten out-of-hand, it also makes a delicious addition to cooked dishes, salads, and baked goods.
Here are three of our favorite recipes to take advantage of the bounty of summer fruit: grilled nectarines that can be enjoyed with savory or sweet dishes alike, a salty-sweet watermelon salad with crumbled feta and fresh blueberries, and a simple blackberry-peach crisp that can be adapted to use with almost any fruit you happen to have on hand.
GRILLED NECTARINES
Serves 4
Ingredients
2 medium-sized nectarines (or peaches), ripe but firm, halved and pitted
2 tbs honey
1 tbs butter, melted
¼ tsp ground nutmeg, optional
¼ tsp ground cinnamon, optional
Instructions
Preheat your grill. Brush the nectarines with melted butter, then place nectarine halves on the grill, cut side down, and cook uncovered for 5-6 minutes, basting periodically with the honey.
Remove from the grill and allow to cool. Serve as is as an accompaniment to grilled pork or chicken, or sprinkle with the nutmeg and cinnamon and serve for dessert with a scoop of ice cream.
WATERMELON SALAD WITH FETA AND BLUEBERRIES
Serves 4
INGREDIENTS
Dressing
½ cup extra virgin olive oil
¼ cup red wine vinegar
Sea salt and pepper to taste
Salad
3 cups diced watermelon
½ red onion, thinly sliced
1½ cups blueberries
1 cup crumbled feta cheese
1 conatiner of pre-washed arugula
3 tbsp roughly chopped mint
3 tbsp roughly chopped basil
Whisk together the ingredients for the dressing in a small bowl.
Combine all the salad ingredients in a large bowl. Toss with the dressing just before serving.
Blackberry-Peach Crisp
Serves 6
Ingredients
Filling
2 cups fresh blackberries
2 lbs firm, ripe peaches, halved, pitted and cut into half-inch wedges
½ cup granulated sugar
2 tsp fresh lemon juice
Topping
1 cup quick-cooking oats
¾ cup all-purpose flour
¾ cup light brown sugar
½ tsp kosher salt
½ tsp ground cinnamon
¼ tsp ground cardamom
⅛ tsp freshly grated nutmeg
1 stick plus 1 tbs cold unsalted butter, cubed
Instructions
Preheat the oven to 375° F.
In a large bowl, gently toss the peaches and blackberries with the sugar and lemon juice, then transfer the fruit to an 8 x 11-inch baking dish.
In another bowl, make the topping by combining the oats with the flour, brown sugar, salt, cinnamon, cardamom, and nutmeg. Using your fingertips, mix in the butter until the topping is crumbly.
Sprinkle the topping over the fruit and bake for 45 minutes to 1 hour. The top should be golden brown and the fruit bubbling.
Let the crisp cool at least 30 minutes before serving. This crisp can be made ahead and refrigerated, covered, overnight. Bring it to room temperature or reheat before serving.
Serve with vanilla ice cream, whipped cream, or a dollop of crème fraiche.