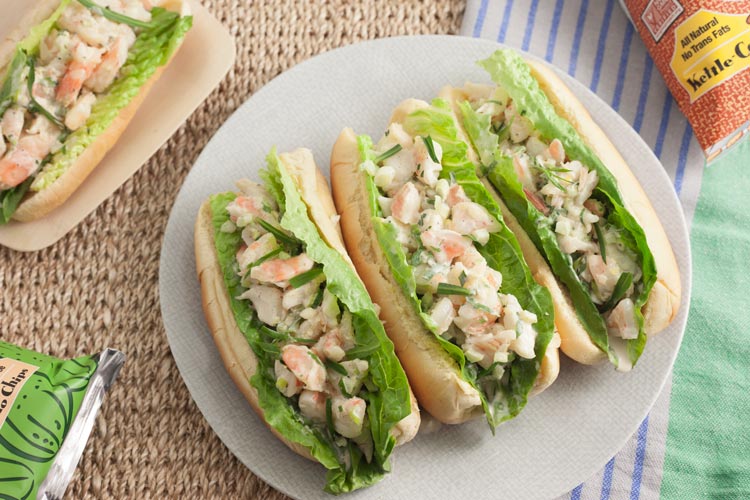 Forget about slogging over a grill in the blazing summer heat! Even the most ardent barbeque fans will be able to appreciate this incredibly quick and satisfying way to fill a hot dog bun that doesn't involve tending any hot coals.
The tender, sweet shrimp in this dish cook in just over 2 minutes, and then get tossed with a creamy, zesty, mayo-based dressing and piled onto crunchy romaine lettuce before being packed into fluffy potato rolls.
They're just the thing for a backyard party, for a picnic, or a sunny, lazy beach day. Pack a bag of potato chips and you're good to go: the taste of summer in one simple, delicious, easy-to-carry package!
Summer Shrimp Rolls
Makes 4 rolls
INGREDIENTS
1½ lb medium raw shrimp, peeled and deveined
Kosher salt for poaching water
2 bay leaves
1 large celery stalk, peeled and diced finely
3 scallions, root tips removed and green and white parts thinly sliced
½ cup mayonnaise
1 tsp Colman's mustard powder
1 tbsp fresh tarragon, roughly chopped, plus more for garnish
1 tbsp fresh lemon juice
1 tsp red wine vinegar
¼ tsp Old Bay seasoning
Salt and freshly ground black pepper to taste
3 tbsp unsalted butter, melted and slightly cooled
4 center leaves of Romaine lettuce
4 Vermont Bread Company potato hot dog buns
INSTRUCTIONS
Bring a medium saucepan of salted water to a boil over medium-high heat.
Add the shrimp along with the bay leaves to the water and poach for about 2 minutes.
Turn off the heat, remove from the stove, and allow the shrimp to cool in their poaching liquid. In order to cool the shrimp faster you can place the pot in a sink filled with ice water.
Once they've cooled, remove the shrimp from the saucepan, pat dry with a paper towel, remove the tail shell, and chop into bite-sized pieces. Set aside in a bowl.
In a medium bowl, combine the celery, scallions, mayonnaise, mustard powder, tarragon, lemon juice, vinegar, Old Bay seasoning, and melted butter. Season with salt and pepper to taste and add in the diced shrimp. Mix thoroughly to coat the shrimp with the dressing.
Split open the hot dog buns and put a romaine lettuce leaf in each bun.
Fill with the dressed shrimp, garnish with chopped tarragon, and serve.
Fill with the dressed shrimp and serve.