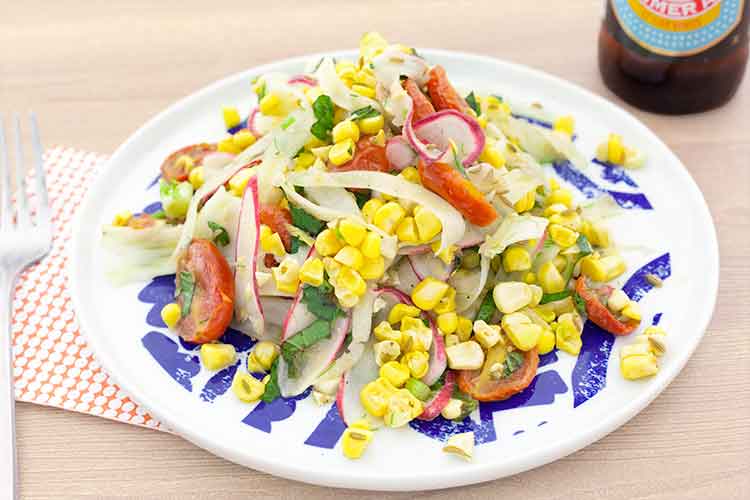 Looking for the perfect dish to take to that picnic or backyard BBQ this weekend? We've got a simple, delicious recipe to help you take advantage of all the best seasonal summer produce in markets right now.
Sweet corn is one of the most prominent vegetable crops produced in New York State, and this year, farmers from the Finger Lakes were graced with some much-needed rainfall that's given them an abundance of beautiful bi-color sweet corn that's picked fresh daily.
Our ridiculously easy corn salad is as colorful as it is flavorful. Candy-sweet golden summer corn is the star of this recipe, which uses crisp fennel, roasted cherry tomatoes, crunchy radishes, and fragrant basil.
And since we believe tomato season must be celebrated accordingly, we suggest grabbing some local heirloom cherry tomatoes when you're gathering your salad ingredients, like the gems coming in right now from our friends at Hepworth Farms in the Hudson Valley.
Sweet Corn Salad with Fennel and Roasted Tomatoes
Serves 4
INGREDIENTS
1¼ lb sweet corn kernels shaved from the cob using a sharp knife
1 fennel bulb, core removed, sliced thinly, and soaked in cold water (make sure to save the fronds for garnish)
10 basil leaves, chopped finely
4 breakfast radishes, thinly sliced
15 cherry tomatoes
2 tbsp olive oil for roasting the tomatoes
Dressing
Juice of 1 lemon
½ cup extra virgin olive oil
1 tbsp freshly ground fennel seeds
Salt and freshly ground black pepper to taste
INSTRUCTIONS
Preheat oven to 300°F.
If using cherry tomatoes, cut the tomatoes in half and lay them on a foil-lined baking sheet, cut-side up.
Drizzle with olive oil and sprinkle with salt.
Place the baking sheet on the middle rack of the preheated oven and let the tomatoes slowly roast for 30 minutes, allowing their juices to concentrate and their skins to pucker.
When they are done, set them aside to cool until ready to use.
In a large mixing bowl, combine the corn, drained fennel slices, chopped basil, cooled tomatoes, lemon juice, olive oil, ground fennel, and salt and pepper to taste.
Garnish with finely chopped fennel fronds. Serve at room temperature.