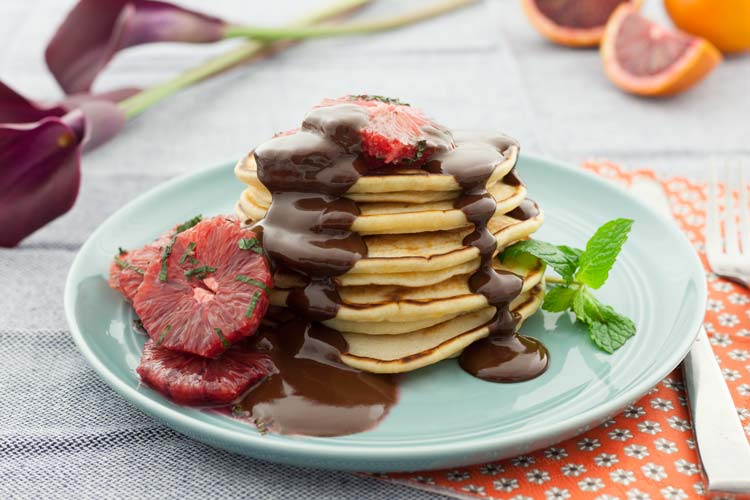 Instead of the same old flowers and chocolate, why not celebrate Valentine's Day with something different? These memorable persimmon pancakes, studded with cubes of fragrant fuyu persimmon and served with a bright and refreshing blood orange compote, are sure to wow your Valentine.
Of course, no Valentine's Day would be complete without chocolate! We recommend drizzling a creamy cayenne-spiked chocolate sauce over these pancakes before serving them—or at the very least picking up one of our many beautifully packaged boxes of truffles or assorted chocolates to serve alongside them.
We've also got a variety of flowers and bouquets available, and adorable petit fours available at the Prepared Food counter as February 14th approaches.
Persimmon Pancakes with Blood Orange Compote and Chocolate Sauce
Serves 4
INGREDIENTS
Chocolate Sauce
1 cup heavy cream
7 oz high-quality bittersweet chocolate (not unsweetened), chopped finely
⅛ tsp cayenne pepper
Compote
2 blood oranges
1 tbsp fresh mint, finely chopped
2 tsp granulated white sugar
Pancakes
1¼ cups all-purpose flour
⅓ cup sugar
½ teaspoon baking soda
⅛ teaspoon salt
2 large eggs
1 large egg yolk
1 cup buttermilk, well-shaken
¼ cup butter, melted and cooled to room temperature
1 tsp vanilla extract
2 ripe fuyu persimmons, peeled and cut into ¼-inch dice (see note)
Unsalted butter for greasing griddle
Note: There are two kinds of persimmon commonly available in the United States, the Fuyu and the Hachiya. Though both delicious, the Fuyu, which is the shorter, rounder-shaped variety, is a little easier to use and is what we recommend here.
INSTRUCTIONS
Heat cream in a small saucepan over medium heat just till it comes to a boil. Pour the hot cream over the chocolate in a small bowl, whisking the mixture gently until all the chocolate is melted and the mixture is smooth. Set aside until ready to serve.
To make the compote, peel the oranges using a sharp paring knife, making sure to remove as much of the white exterior pith without cutting too deeply into the fruit. Peel the fruit over a bowl to catch any juice that may escape. Reserve this for the compote. Slice the oranges into cross sections about ⅛ inch thick. Mix the orange slices, mint, sugar, and any juice that you've reserved in a bowl and leave to macerate for 10 minutes.
Next, make the pancakes: sift the flour, sugar, baking soda, and salt into a large bowl. Whisk the eggs, yolk, buttermilk, oil, and vanilla in a small bowl until well mixed. Add the liquid mixture to the flour and gently stir with a spatula to combine. Next, gently stir in the diced persimmon, taking care not to break up the fruit too much or overmix the batter.
Heat a cast-iron skillet or nonstick pan over low heat. Dab a wadded piece of paper towel in softened butter and lightly coat the surface of the pan with it.
Using a ¼ cup measure or a small ladle, pour out 3 – 4-inch pancakes onto the hot skillet. Watch the first couple of pancakes carefully. After a minute or two, carefully check the undersides to see if they are browning too fast. If they are, turn the heat down a little bit.
Cook till the surface of the pancakes is perforated completely with small bubbles and is beginning to lose its shine.
Flip the pancakes over and cook for 1 minute more. To check for doneness, gently prod the center of the pancakes with your finger. The pancake should resist with a soft spring but should neither be rubbery nor soft.
As they get done, transfer the pancakes to a plate, cover with foil, and set aside in a warming oven.
Serve the pancakes warm, topped with chocolate sauce and blood orange compote on the side.