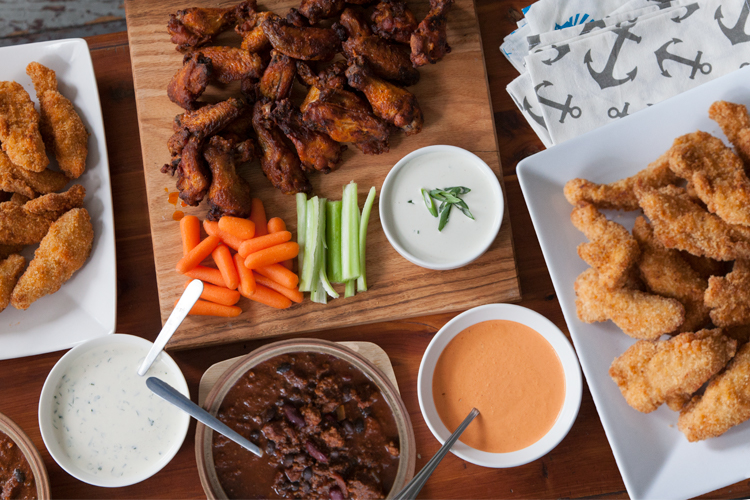 Super Bowl Sunday is right around the corner. As two teams brace themselves for their day on the field, you'll be busy stocking up on the perfect selection of food and drink for some epic game day eats, and your nearest Union Market has everything you'll need.
Start at our Prepared Food counter with some chicken tenders made with chickens that are humanely raised without antibiotics or hormones, which, of course, come with a generous serving of house-made blue cheese dressing. From there, you'll find our quintessential wing selection—this year, we'll have spicy Old Bay seasoned Hot Wings and a sweet, tangy Blood Orange Smoked option. Then, you can head over to our refrigerated section, where you'll find other favorites from our kitchen, including our customer favorite beef-and-black-bean chili, creamy spinach dip, and caramelized onion dip.
All these excellent options will be available on Saturday and Sunday only while supplies last (February 12th to February 13th), so make sure to take advantage of them while you can!
And when it comes to the other game day essentials, from our Union Market brand tortilla chips and delicious house-made guacamole to a variety of dips, finger food—and of course, beer!—we've got it all.
Some of our favorite Super Bowl-friendly items are even on special right now, like Table 87 authentic coal-fired frozen pizzas and (new to our shelves) Daring plant-based chicken!
OUR SUPER BOWL LV MENU
Available Saturday, February 12 – Sunday, February 13, 2022
CHICKEN TENDERS
Murray's Organic Antibiotic-Free Humanely Raised Chicken
$11.99 / lb
HOT WINGS
Old Bay Seasoning and Frank's Hot Sauce
$9.99 / lb
BLOOD ORANGE SMOKED WINGS
Orange Juice, Sriracha, and scallions
$10.99 / lb
BEEF & BLACK BEAN CHILI
Dried Chilies, Poblano Chilies, Red Beans, Chocolate
$13.99 / each qt
feeds 4 – 6 people
SPINACH DIP
Shallots, Garlic, Jalapeño, Ginger and Crème Fraîche
$5.99 / 8 oz.
BLUE CHEESE DIP
$5.99 / 8 oz.
ONION DIP
$4.99 / 8 oz.