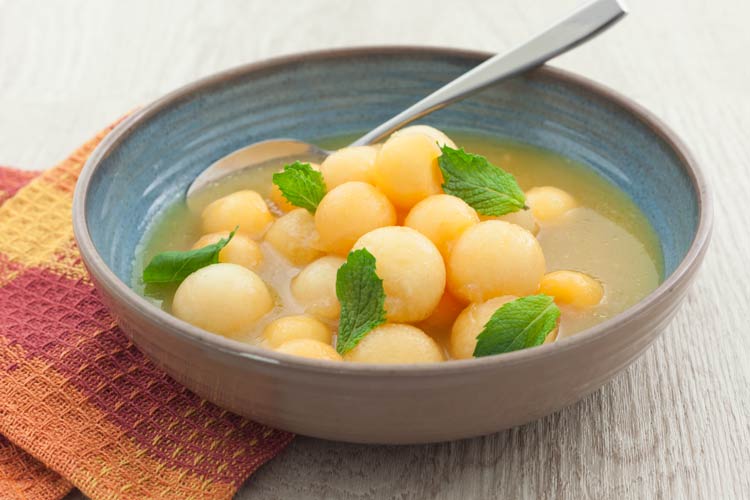 Summer may be winding down, but we're still savoring the season's bounty of farm-fresh produce. This refreshing and citrusy melon soup features perfectly ripe summer cantaloupe, mint, and a zesty hint of fresh ginger.
Make a large batch and serve it for lunch alongside a salad and some cured meats and you'll feel like you're sitting in the countryside somewhere enjoying the sweet spoils of summer.
And though it's easy to make, it's also sophisticated enough for an elegant summer dinner. Sweet, tart, and gingery, with a long, floral finish from a splash of Muscat de Beaume de Venise, a sweet dessert wine from the Rhône Valley, your guests will all be asking for seconds—and thirds!
Chilled Melon Soup with Honey and Ginger
Serves 4-6
INGREDIENTS
2–3 ripe cantaloupes
2 cups spring water
2 tbsp sugar
2 tbsp lavender honey
2 tbsp extra virgin olive oil
1 tbsp fresh lime juice
1 tsp freshly grated lime zest
1 tbsp freshly grated ginger
3 tbsp Muscat de Beaumes de Venise or another sweet, white dessert wine (optional)
Fresh mint (optional for garnish)
INSTRUCTIONS
Using a large, sharp knife, cut the melons into halves. Remove and discard the seeds.
With a medium melon baller, scoop out the flesh from as much of the melons as you can, taking care not to scoop all the way through to the skin, which is bitter and tough.
Set the scooped melon aside.
Using a small paring knife, remove the skin from the remaining melon and cut the flesh into one-inch pieces.
In a small saucepan, bring the water, sugar, cubed melon, and the honey to a boil.
Let the mixture cook for just 2 minutes.
Pour the contents of the saucepan into a blender, making sure not to fill the blender jar more than three-quarters full, performing this step in more than one batch if need be. Blend thoroughly till the mixture is smooth.
Let the blended mixture cool before stirring in the olive oil, fresh lime juice, lime zest, freshly grated ginger, and the Muscat.
Add the melon balls to the melon purée and let the mixture marinate in the refrigerator for at least two hours before serving.
Serve in chilled bowls garnished with sprigs of fresh mint.