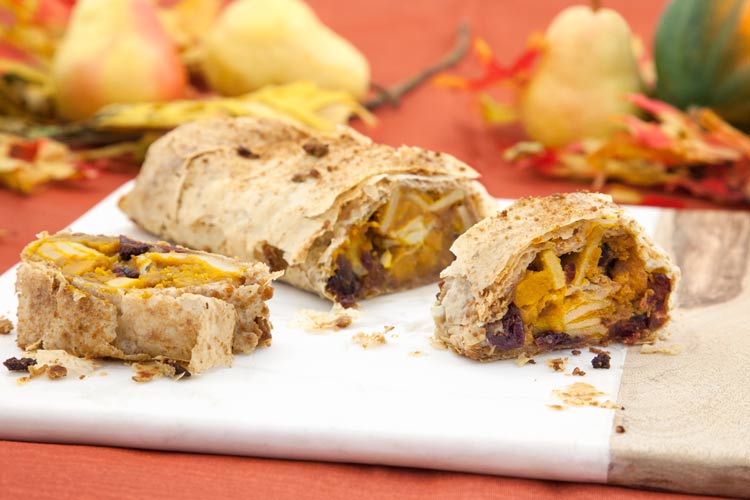 Fall is finally in the air, and we're making the most of the cooler weather with this easy-to-make seasonal strudel.
Acorn squash is one of our favorite fall ingredients, and it plays a starring role in this unique and memorable dessert, adding a subtle, nutty sweetness that harmonizes perfectly with floral notes of pears, aromatic cinnamon, and deliciously tart cranberries.
We recommend serving it warm alongside some fresh berries, ice cream, or yogurt.
Acorn Squash Strudel with Pear and Cranberries
Serves 6
INGREDIENTS
1 small acorn squash (approximately 2 lbs)
2 Bartlett pears, peeled, cored, and sliced into ⅛-inch slices
⅓ cup dried cranberries
Grated zest of half a washed, organic lemon
⅓ cup dark brown sugar, well-packed
2 tbsp brandy
1 tsp ground cinnamon
6 (12×16-inch) sheets phyllo dough (defrosted in the refrigerator overnight)
3 tsp melted and cooled butter mixed with 1 tsp hazelnut oil
½ cup graham cracker crumbs
2 tbsp of granulated sugar, plus 1 tsp for sprinkling on top
INSTRUCTIONS
Preheat the oven to 350°F. Using a sharp, heavy knife, cut the acorn squash in half from base to stem. Use a spoon to scoop out the seeds, which you can discard.
Lightly oil a sheet of parchment paper and lay it out on a baking sheet. Place the squash, cut-side-down on the parchment paper and place the baking sheet on the middle rack in the preheated oven.
Bake for 30–40 minutes, or until the tip of a small knife enters the squash without resistance.
Scoop out 1 lb of flesh (about 4 cups) from the acorn squash, making sure to avoid the skin.
Roughly chop the flesh into large chunks and place in a large bowl. Let cool for 10 minutes.
Add the sliced pears to the cooked squash along with the dried cranberries, brown sugar, brandy, and cinnamon. Mix well and set aside for 15 minutes to allow the flavors to come together.
Place 1 sheet of phyllo on a clean, dry work surface. Make sure to keep the remaining phyllo under a kitchen towel while you work, to prevent it from drying out.
Brush the phyllo lightly with the melted butter-hazelnut oil mixture and sprinkle with graham cracker crumbs and roughly 1 teaspoon of sugar.
Make 5 more layers in the same way, using up all 6 sheets of phyllo.
Spread the squash mixture evenly over the phyllo, leaving a ½-inch border uncovered all around.
Roll the phyllo up into a tight roll starting from the 12-inch-long side.
Making sure that the roll is well-supported (use a long, wide spatula or a flat cookie sheet), transfer it to a baking sheet lined with a lightly greased sheet of parchment paper.
Brush the outside of the roll with the butter-hazelnut oil mixture and sprinkle with sugar.
Put the formed strudel onto the middle rack of the preheated 350°F oven and bake for 35 minutes until the exterior is crisp and golden.
Remove from the oven and let cool for at least 10 minutes before slicing and serving.
Serve with fresh berries, yogurt, or ice cream.