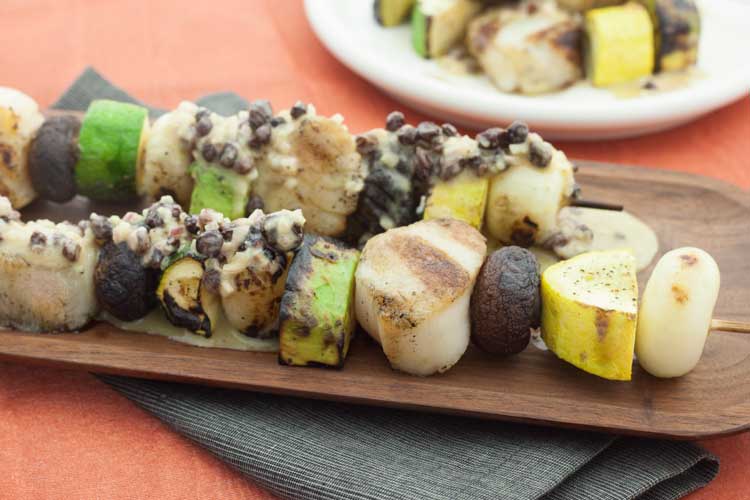 The sun is out, warm weather is here for the weekend, and it's finally grilling season again!
If you're tired of the same old grilling recipes then we have just the thing for you. These scallop and veggie skewers are delicious, easy to make, and a welcome change from the usual, uninspired grilling fare.
In this recipe, the large, juicy scallops get crunchy and sweet on the grill, while the cremini mushrooms become even more earthy and aromatic and the onions turn beautifully silky. And the surprise ingredient, avocado, takes on a lovely char and becomes ethereally soft and creamy. The finishing touch, a lively, citrusy dressing spiked with dried currants, is so good you'll want it on everything you grill this summer.
Make these for Dad this Father's Day next weekend—or on any day when the weather is fine, and you're in the mood for a satisfying summer meal eaten and cooked al fresco.
Scallop, Veggie & Avocado Skewers with Currant Dressing
Serves 4
INGREDIENTS
Skewers
12 large scallops
12 cipollini onions, peeled
2 zucchini or yellow summer squash, cut into 1.5-inch dice
12 medium cremini mushrooms
2 ripe but firm avocados, peeled, pitted, and halved, and then cut into 6 large pieces
Dressing
⅓ cup olive oil
Juice of 1 lemon
4 shallots, finely chopped
⅔ cup black currants
2 tbsp Dijon mustard
2 sprigs thyme
Salt and pepper to taste
INSTRUCTIONS
Note: These can be made either on a grill or in a sauté pan on the stovetop. We've included directions for both below.
If you're using wooden skewers, plan on soaking them in water for at least an hour in water, especially if you plan on using a grill.
Skewer the scallops and vegetables, making sure that each skewer has a scallop, an onion, a cremini mushroom, a chunk of zucchini and a piece of avocado. If you have room on the skewer, repeat in the same order. Make sure to leave at least 2 inches at the end of the skewer to make it easier to handle.
Season the skewers well with salt and pepper and lightly brush the scallops and vegetables with olive oil.
If using a grill, preheat to medium-high and sear the skewers on both sides for 1–2 minutes. Then move to a slightly cooler part of the grill to cook for another 5–8 minutes, turning occasionally to ensure even cooking.
If using a sauté pan, preheat to medium-high heat and cook for the same amount of time as with the grill, turning as needed.
Set skewers aside in a warm place loosely covered with aluminum foil.
In a medium bowl mix together the olive oil, lemon juice, shallots, black currants, thyme and Dijon mustard.
Scoop the dressing generously over the skewers and serve while still warm.