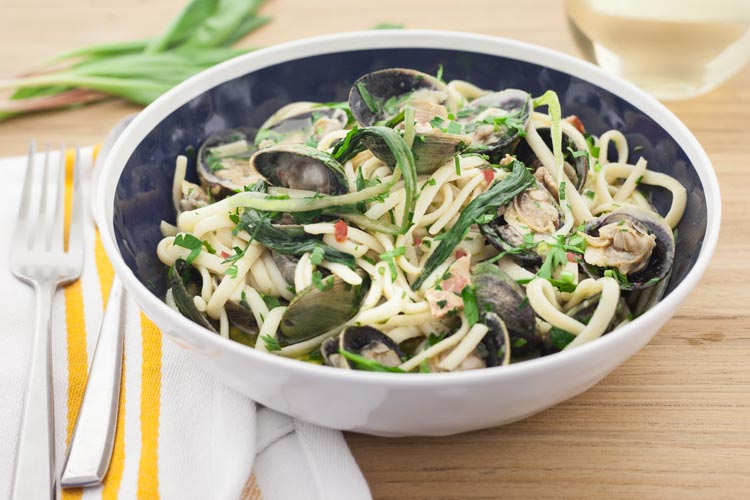 It's that wonderful time of year again: spring is here and ramps are on the rampage!
While there's no shortage of delicious things to make out of these wild green onions (like pesto for starters), we can't think of any better way to showcase the funky, sweet, oniony flavors of this seasonal treat than in a gorgeous tangle of perfectly cooked linguine with ramps, clams, smoked bacon, and a scattering of crunchy breadcrumbs.
Linguine with Ramps, Cockles, Smoked Bacon and Breadcrumbs
Serves 4
INGREDIENTS
6 oz ramps, washed with ends trimmed
5 oz bacon, cut into ¼-inch dice
4 garlic cloves, crushed
2 lb cockles, thoroughly washed
¼ cup dry white wine
1 lb dried linguine
2 tablespoons chopped parsley
½ cup extra virgin olive oil
1 tsp chili flakes
Salt and pepper to taste
1 cup coarse bread crumbs, toasted
INSTRUCTIONS
Bring a large pot of salted water to a boil over high heat.
Add the pasta and stir once or twice to make sure that it doesn't stick to the bottom of the pot. Cook according to the instructions on the package or until al dente (when you bite into a strand of the pasta it should offer just a slight resistance to your teeth). This shouldn't take longer than 10 minutes, but start checking sooner.
While the pasta is cooking, warm the olive oil in a wide, high-sided sauté pan set over medium-high heat. Add the bacon and cook until light brown, about 5 minutes.
Add the garlic and the ramps and cook, stirring often, for 2–3 minutes, until you begin to smell their aroma. Be very careful not to burn the garlic. Next, add the cockles and the white wine. Cover the pan with a tight-fitting lid and cook, covered, for 5 minutes, or until all the cockles have opened. Taste the cooking liquid and season with salt and pepper as needed. Salt carefully since the cooking liquid is naturally salty.
Lower the heat under the sauté pan while you wait for the pasta to be done.
When the pasta is done, reserve a cup of the cooking water and drain the pasta into a colander.
Add the drained pasta to the pan with the cockles and toss the two together over low heat. Add the pasta cooking water a little at a time till the sauce in the pan achieves the correct consistency. It should be glossy and not too thick and should generously coat all the strands of pasta. Stir in the parsley near the end making sure that it is evenly incorporated. Check for seasoning one final time and add salt and pepper if needed.
Distribute between four dinner bowls and top with the toasted breadcrumbs.
Serve immediately while the pasta is still piping hot.