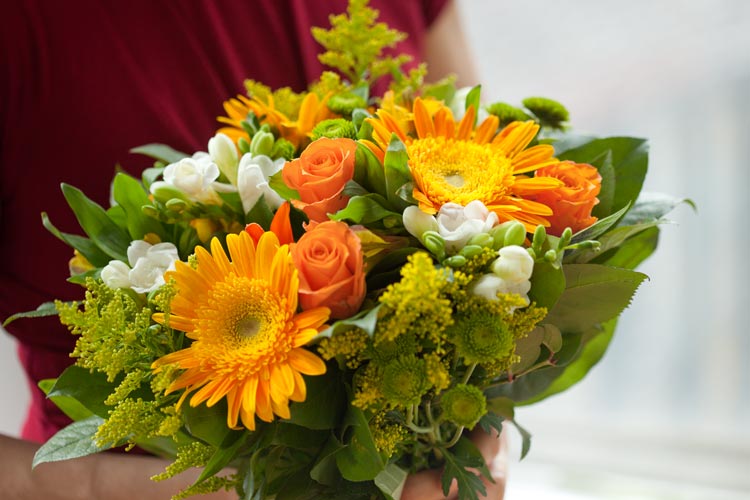 What's the perfect way to thank the mother in your life for the wonderful things she does for you all year long? Well, we have more than a couple of ideas! Stop by Union Market and check out our selection of Mother's Day flowers, treats, and breakfast-in-bed supplies.
First things first: no Mother's Day is complete without flowers, and we have bouquets upon bouquets of beautiful blooms from Long Island's Dutch Petals that are bound to make Mom's day much brighter.
For a sweet treat, try the lovely strawberry blossom cake from Park Slope's own Ladybird Bakery (now on special for $5.00 off), or the artisanal Italian cakes by Dolci di Franci, recently written up in the NY Times and available in two amazing flavors: limoncello and chocolate-almond. We also have exquisite chocolates from local favorites Nunu, Mast Brothers, Jacques Torres, Lake Champlain, and more.
For the main event, we have everything on hand that you could possibly need to surprise Mom with the perfect Mother's Day treat—breakfast in bed! Pick up a dozen Union Market farm-fresh eggs and some applewood-smoked Vande Rose bacon, currently on special for $1.50 off!
For a really memorable breakfast or brunch, make our recipe for some very special pancakes with fruit compote and chocolate sauce, created by Union Market's own chef Sandro Romano. As a nod to spring, just substitute the persimmon that's called for in the recipe with some fresh berries.
Whether you're cooking or not, you'll probably want to pick up a few of our fresh pastries, delivered daily from some of the city's best bakeries. We'll have delicious danishes from Bien Cuit in flavors like Meyer lemon, ham and brie, and kale and feta, as well as croissants, bagels, scones, muffins, and doughnuts from the likes of Dough, Eli's Bakery, Balthazar, and others.
Our housemade quiches also make a scrumptious and easy brunch: choose between asparagus and goat cheese, mushroom-gruyére, and the classic quiche lorraine.
And for the cherry on top, don't forget some of our fresh-squeezed, never-pasteurized Union Market orange juice. It just wouldn't be a Mother's Day brunch without some sunny OJ on the menu—or a tall, sparkling mimosa!