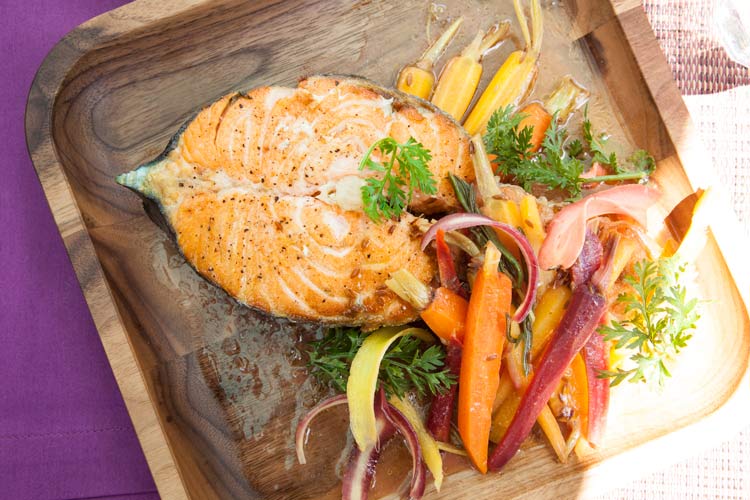 Summer is peak season for wild Alaskan salmon, and we couldn't be happier about it. Wild salmon is prized for its distinctly rich flavor, firm flesh, and plentiful omega-3 fatty acids. You can find it fresh in our stores from late spring through early fall.
Some of the varieties of wild salmon from the Pacific Northwest that you'll find at Union Market include king salmon, coho, and sockeye salmon.
Alaskan King Salmon
Also known as Chinook salmon, this is the largest species of Pacific salmon. They average three feet in length and can weigh as much as 100 pounds. Their large size and higher oil content mean bigger, juicier fillets that remain tender and tasty no matter how you choose to cook them. They can withstand everything from grilling to poaching.
Coho Salmon
Also called silver salmon for the bright scales on its sides, these fish can grow to be up to 30 pounds. Coho is less fatty than king slamon, with a firm flesh and bright flavor that pairs well with stronger flavors like pesto or tapenade. Excellent for broiling, poaching, or smoking.
Sockeye Salmon
Sockeye is also called red salmon for its brilliant red flesh that retains its color even when cooked. Sockeye is considered to have the strongest flavor and firmest flesh of all the Pacific Northwest wild salmon. It's less buttery than king salmon but can also be used with any cooking method. Sockeye takes well to flavorful seasonings and added fats like oil or butter.
Our chef Sandro Romano has created a recipe for succulent salmon with colorful rainbow carrots to help you take advantage of the season's bounty. This recipe calls for sautéing salmon steaks or fillets in a pan. Any type of salmon will work beautifully, including our fantastic sustainably raised Faroe Islands Atlantic salmon, which is available fresh year-round.
Wild Salmon with Rainbow Carrots
Serves 4
INGREDIENTS
Salmon
4 8 oz salmon steaks or fillets
2 tbsp olive oil
Salt and pepper to taste
Carrots
12 rainbow carrots, cut in half lengthwise. Reserve the fronds in cold water to use as a garnish.
1½ cups orange juice
¼ cup olive oil
1 oz unsalted butter
½ tsp ground cumin
1 tsp whole cumin seeds
Salt and pepper to taste
INSTRUCTIONS
Season the salmon with salt and pepper on both sides.
Place a sauté pan over medium heat with all the ingredients for the carrots. Cover with a lid or with a circle of parchment paper. Cook covered for 6 minutes to steam the carrots. Remove the lid and cook uncovered for 3 minutes more until the carrots are tender and the juice in the pan has reduced by half.
Set the carrots aside in a warm place.
Heat 2 tablespoons of olive oil in a cast-iron skillet or nonstick sauté pan over medium-high heat. When the oil begins to shimmer, add the salmon. If using steaks, cook undisturbed for 4 minutes on each side. If using fillets, place in pan skin-side down for 6 minutes and then flip and cook for an additional 2 minutes. The salmon is done when a cake tester or toothpick easily pierces the flesh with little to no resistance.
To serve, place carrots and 1 piece of salmon on each plate and garnish with sprigs of the reserved carrot fronds.