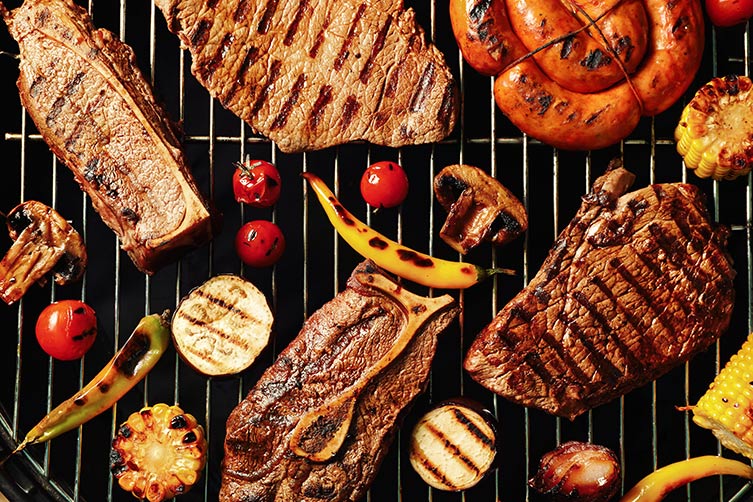 You can't celebrate Memorial Day weekend without a proper BBQ, so leave it to us to help you stock up for one! We have an incredible selection of prepared food, juicy steak, fresh seafood, and healthy vegetarian options to satisfy everyone, so you can focus on relaxing this holiday weekend.
Of course, there's classic cookout fare, like BBQ chicken, baby back ribs, and burgers and hotdogs of all kinds. When it comes to hotdogs, organic uncured 100% grass-fed turkey or beef hotdogs are currently on special for $1.50 off. These are unbelievable fresh and juicy and made from meat that's humanely raised and free of antibiotics, casein, and GMOs—plus, they're easy to throw on the grill to serve a whole crowd. We've got brioche hot dog and burger buns on special for $1.00 off to top that off. Trust us; these traditional soft buns will hold up all the fixings!
Or pick up a few of our humanely raised, antibiotic-free steaks to throw on the grill. Choose from cuts like Porterhouse, ribeye, or NY strip steaks. We have one of our favorite cuts of local grass-fed strip steaks from our friends at Autumn's Harvest Farm on special now for $4.00 per pound.
Thinking about seafood for the grill? We have plenty of delicious possibilities, including whole fish (sea bass, red snapper, and Bronzino), steaks (North Atlantic yellowfin tuna, Atlantic swordfish), fillets (salmon, mahi-mahi, monkfish), and shellfish (soft shell crabs, sea scallops, and Gulf shrimp). We've also got everything you need to host a traditional clambake, from littleneck clams and PEI mussels to Andouille sausage from D'Artagnan.
Our butchers and fishmongers love to offer suggestions and answer your questions, so if you're not sure what's on your Memorial Day menu yet, just ask us for help!
And if you're looking for plant-based options for the grill, you can't go wrong with grilled vegetables, flavorful veggie-based Beyond Meat burgers, Impossible burgers, vegan Smart Dogs, or vegan Field Roast sausages.
Explore the store to round out the menu and fill your picnic basket—and don't forget about drinks and dessert while you're at it! Discover your favorite sides and fixings among our seasonal prepared food items, domestic and imported cheeses, lovely spring produce, and a wide selection of tasty sauces and condiments like Lillie's Q BBQ sauces that's now on special for $2.00 off. 
If you need even more ideas on what to stock up on for your Memorial Day celebrations, we recommend checking out our current specials to see what's on sale.
Have a safe, happy, and delicious holiday weekend!