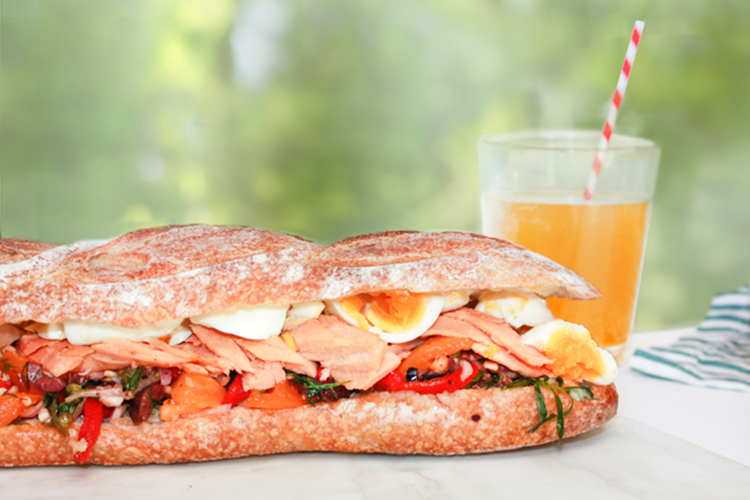 Kick off picnic season with this Provençal tuna sandwich known as the pan bagnat. Typical niçoise salad ingredients are met with a smoky paprika aioli creating a delicious twist on this French classic. Our recipe serves 4 so it can be a perfect centerpiece for your outdoor lunch.
Here, olive oil-packed tuna is mixed with hard-boiled eggs, olives, tomatoes, lots of fresh herbs. The briny olive relish and the bright tomato salad provide juicy flavors that the crusty baguette absorbs as it sits. The vinaigrette-soaked bread is one component that makes this sandwich so special. Plus, it means you can (and should) assemble it ahead of time, making for easier meal prep because cooking for a crowd is already stressful enough. Happy picnicking!
Pan Bagnat with Paprika Aioli
Serves 4
INGREDIENTS
2 hard-boiled eggs
6 oz. jars of good tuna packed in olive oil
1 large baguette
Tomato Salad
1 medium tomato chopped
Juice of 1/2 lemon
2 tbsp of olive oil
¼ cup of herbs chopped (basil, tarragon, dill)
1 small shallot thinly sliced
¼ tsp salt
¼ tsp red pepper flakes
¼ tsp of sugar
Olive relish
2 anchovy fillets minced
1 garlic cloves grated
¼ cup Kalamata olives chopped
1 tsp Dijon mustard
1 small red onion chopped fine
2 roasted red peppers sliced
1 tbsp of capers roughly chopped
Paprika aioli
¼ cup of mayo
1 garlic clove grated
½ tsp smoked paprika
½ tsp red wine vinegar
¼ tsp salt
INSTRUCTIONS
In a large bowl, add the chopped tomatoes, lemon juice, olive oil, shallot, ¼ tsp salt, herbs, shallot, red pepper flakes, sugar, and a ¼ tsp of salt. Toss thoroughly so that all ingredients get equally distributed to make your tomato salad topping. Allow it to sit for at least 10 minutes, allowing the shallots to slightly pickle in the lemon juice.
Boil to eggs in a boiling pot of water. After 8 minutes, transfer the eggs to an ice bath for 2 minutes and then peel off their shells. And roughly tear them into bite-sized pieces.
In a small bowl, add the Kalamata olives, 1 garlic clove, anchovies, red onion, roasted red peppers, capers, and Dijon mustard to make your olive relish.
In a small bowl, to make your chili mayo, whisk together the mayo, 1 of the garlic cloves, chili pepper, red wine vinegar, and ¼ tsp of salt. Set aside to spread on your bread later.
Slice your baguette lengthwise and remove some of the crumb to make the bread somewhat hollow. Spread your chili mayonnaise on the base of your baguette. Top with the oil-packed tuna, then olive relish, hard-boiled eggs, and then top with the tomato salad allowing the juices to drip down onto the ingredients underneath. Cover with the top half of the bread, firmly pressing the sandwich together.
Wrap sandwich as tight as you can in foil, waxed paper, or plastic wrap. You can make the sandwich 24 hours ahead of eating it. We suggest waiting at least 20 minutes before slicing it open to allow for the crusty bread to soak up all the flavorful juices.