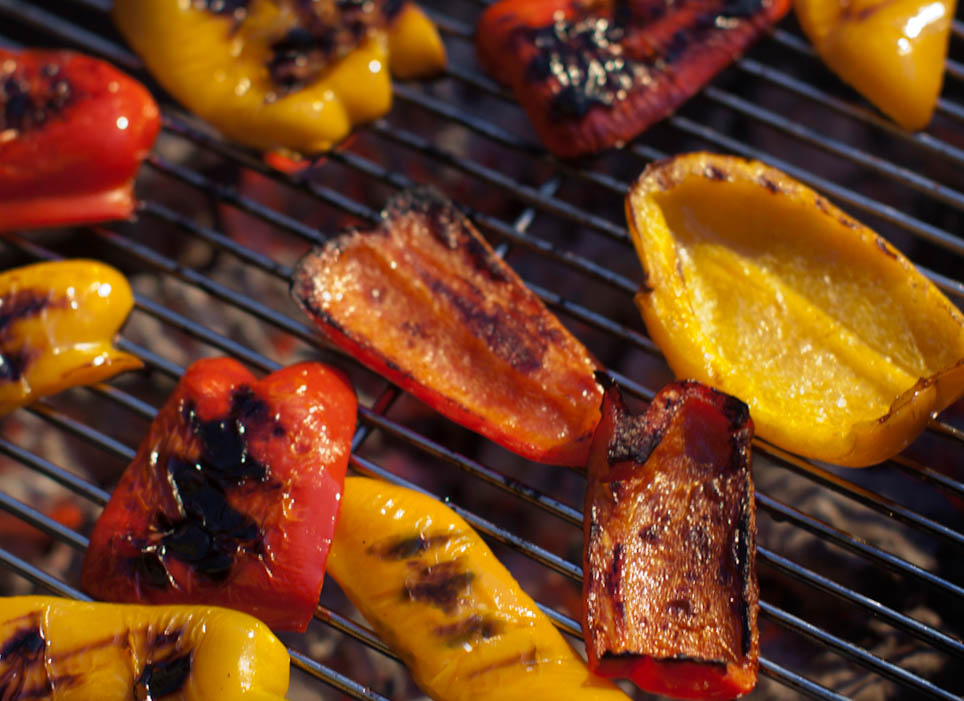 Whatever else we've got cooking, when we're grilling, we're grilling vegetables. They're a wonderfully healthy option for the grill, but another unique asset is the incredible convenience of veggies in both preparation and serving in a way that meats and seafood can't compete with.
Most meat and seafood is best served still warm from the fire, since much of the juiciness comes from fat as well as moisture. As they cool, the fat congeals, and meats can get tough and a little greasy. Vegetables, however, are just as tasty—sometimes even tastier—when served at room temperature. This means that vegetables can be grilled in advance of your main course, and can already be on the table when the burgers, steak, or seafood are ready to serve.
We've compiled nine of our favorite vegetables to grill. The prep times are minimal, the techniques simple, and the results delicious. We suggest you let the prepared veggies sit for at least 15-30 minutes before hitting the grill, but many vegetables are resilient and can be prepped for the grill hours or even a day or two before the cookout.
Once grilled, veggies will keep in the refrigerator for a couple of days. They make great ingredients for other meals during the week, and they reheat in the microwave in seconds. Toss them in a salad or a light pasta sauce, or add them to a sandwich or an omelet.
JAPANESE EGGPLANT OR ITALIAN (BABY) EGGPLANT
Split the eggplant in half lengthwise, and place cut side up on a platter. Smash/mince a clove of garlic with two tablespoons of olive oil. Distribute the garlic oil over the cut surfaces of the eggplant, let stand 15-30 minutes. Grill skin side down for 8-10 minutes until just softened, and then turn and grill another 4-5 minutes, until just charred. Delicious in a salad or on crostini.
TOMATOES
Cut a beefsteak or large heirloom tomato in half horizontally. Scoop out the seed sacs, if desired. Smear the cut sides of each half with one teaspoon of balsamic vinegar and a drizzle of olive oil. Add a bit of oregano, and let them marinate for 15-30 minutes. Grill cut side up until tomatoes are just softened, about 10-12 minutes. Turn the tomatoes over, and char the cut sides for another couple of minutes. Serve whole or cut up into chunks and added to fresh pasta sauce.
RADICCHIO
Cut the radicchio in half, from top to bottom. Lay the cut side up, and drizzle each half with olive oil and sherry vinegar, another red wine vinegar or fresh lime juice.. Add salt and pepper. Grill with the cut side up until the radicchio begins to wilt, about 7-10 minutes. Turn and char the cut sides for an additional 3-5 minutes. Serve it up like a warm grilled salad. Excellent with seafood!
FINGERLING POTATOES
Parboil the fingerling potatoes until almost done. Let them cool, then toss lightly in olive oil, and finish on the grill, on skewers or in a grill basket, or even placed carefully right on the grate. Try them in a Niçoise Salad!
CORN
Husk the corn, remove the silk, and lightly brush each ear with vegetable oil. Place the ears of corn directly on the grill, turning as needed, until nicely charred all around, about 10 minutes. Slather on some butter, drizzle with lime juice or, for a real treat, serve with truffle butter!
POBLANO OR ANAHEIM PEPPERS
Lightly coat the peppers in olive oil, then season generously with salt and pepper. Grill directly over flame, turning as needed, until evenly charred and softened, about 8-10 minutes. Let them cool slightly, then make one slit from stem to point and gently scoop out any seeds or tough fibers. Wonderful in a green salad or an amazing addition to a burger.
ASPARAGUS
Remove any woody bottoms from the stalks, and then marinate the asparagus in a hearty vinaigrette dressing for a least an hour at room temperature. Better yet, refrigerated them overnight. Shake off excess dressing, and grill directly over the fire, 3-5 minutes per side. A classic summer side dish, also great tossed with couscous and light pasta salads.
VIDALIA OR SPANISH ONIONS
Trim the ends off an onion and cut it in half crosswise. Skewering or securing the layers of onion with toothpicks will help when grilling. Generously brush the cut surfaces with a balsamic glaze, then sprinkle with dried thyme, salt, and pepper. Let them stand an hour or more at room temperature. Grill cut side up, basting with any leftover glaze, until tender, about 20 minutes or so. Turn and char the cut side of each onion half for another 5-7 minutes. Serve the halves as a side, or cut as needed for adding to salads or topping burgers and sausages.
SUMMER SQUASH
Split a green or yellow squash in half lengthwise. Lay the cut side up and with the tip of your knife run two shallow slits lengthwise along the flesh. Blend olive oil and lemon juice with big pinches of garlic powder and oregano, and brush the mixture onto the cut sides. Grill for 5-6 minutes with the cut side up, and then turn the squash over and continue grilling until the whole thing is nicely charred, turning as needed, 4-5 minutes more.