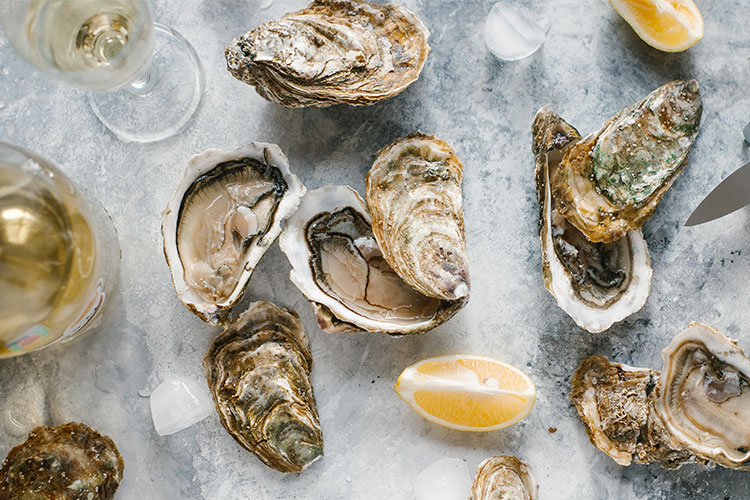 2021 is just around the corner which means planning a festive and tasteful menu for ringing in the new year. While the holiday season may be a little different this year, there's no reason to forgo the celebratory staples that New Year's Eve brings—we suggest fresh oysters, caviar, and of course champagne or something bubbly to drink to pop when the clock strikes 12.
Union Market's seafood counter has an array of seasonal oysters to choose from, including local East Coast varieties like Montauk Pearls, as well as West Coast oysters like Kusshi and Kumamoto, all responsibly sourced and fully traceable. Enjoy them on the half-shell with a squeeze of lemon or mignonette—or for an indulgent alternative, try our recipe for roasted oysters with a tarragon beurre noisette.
We'll also have a variety of sustainable caviar on hand to help you celebrate in style. If really want to indulge this New Year's Eve, be sure to try our finest Asian Premier caviar on blinis with a dollop crème fraîche. Remember, caviar is best served cold with a non-metallic spoon. For  more ways to enjoy caviar, check out our serving suggestions and storage tips.
Here's to a happy and healthy New Year!
Fresh Oysters
EAST COAST
Montauk Pearl
Long Island
Wellfleet
Massachusetts
Irish Point
Prince Edward Island
WEST COAST
Kumamoto
Washington
Pickering Pass
Washington
Kusshi
British Columbia
Sustainable Caviar
ASIAN PREMIER
Acipenser guldenstaedtii
Medium-size dark gray-black pearls with great pop and a vibrant, nutty taste profile
$125 / 1 oz.
ITALIAN OSETRA
Acipenser transmontanus
Medium-size shiny black pearls with a subtle and fruity flavor
$75 / 1 oz.      $150 / 2 oz.
AMERICAN HACKLEBACK
Scaphirhynchus platorynchus
Small jet-black pearls that are pleasantly buttery and sweet
$25 / 1 oz.      $50 / 2 oz.      $100 / 4 oz.
SALMON ROE
Large deep orange-red pearls with an intense, briny tang
$6.99 / 2 oz.