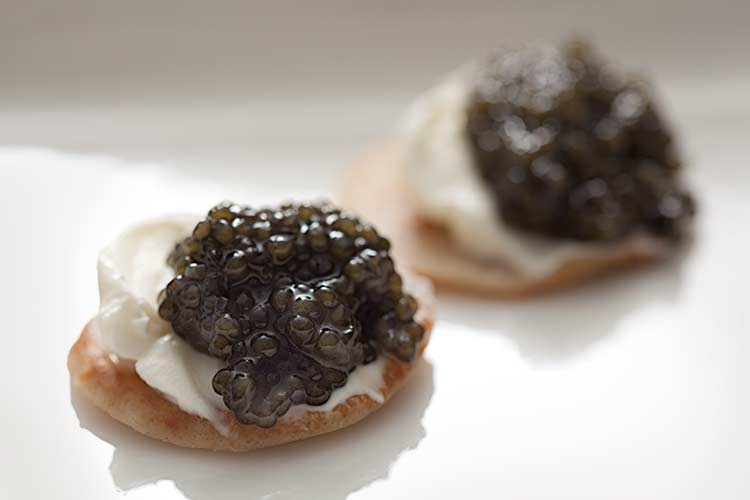 New Year's Eve is the perfect time to shrug off the old and ring in the new. Take a note from our book and celebrate with some tantalizingly fresh oysters and caviar. There's nothing that goes better with the pop of a champagne cork and the chiming in of the New Year. And in addition to being an exquisite way to celebrate, all of our oysters and caviar are responsibly sourced and sustainably raised—something to really raise your glass to!
Eager to try caviar but not sure about the best way to serve it? Leave it to us: we carry everything you could possibly need for a festive and flawless New Year's celebration. Take a look at our tips below and then head on over to one of our stores to pick up your party supplies!
CAVIAR TIPS
Store caviar in the coldest part of your fridge but do not freeze it!
Unopened, caviar will last 2-3 weeks in the refrigerator. Once opened, though, consume as soon as possible!
If returning an opened tin of caviar to the fridge, cover the surface of the caviar directly with cling film directly before putting the lid back on.
Make sure to serve caviar with a non-metallic spoon like mother-of-pearl, bone, or horn.
SERVING SUGGESTIONS
Caviar with Sour Cream and Blini
Sometimes things are classics for a reason. Pick up a pack of our mini blini and serve them warm, liberally anointed with butter and ice-cold caviar.
Caviar with Cucumber and Crème Fraîche
Looking for something lighter that still feels indulgent? Try thin slices of cucumber with a healthy dollop of tangy crème fraîche and a generous topping of briny caviar.
Caviar on French Bread with Cultured Butter
If you want something simple and exquisite, we recommend very lightly toasting slices of our Blue Duck Bakery baguette so that the bread is still pliable, then smearing it with nutty, aromatic cultured butter from Vermont Creamery or some heavenly Delitia Butter di Parma before topping with caviar.
And we have all the other accoutrements you might need for your New Year's Eve, too—a selection of mixers and bitters from Powell & Mahoney, McClure's and Fee Brothers, plus specialty sodas, cheeses, charcuterie, and of course mother-of-pearl spoons to do justice to your caviar.
Enjoy, and happy New Year from all of us at Union Market!
Sustainable Caviar
ASIAN PREMIER
Acipenser gueldenstaedtii
Medium-size dark gray-black pearls with great pop and the classic vibrant and nutty Caspian Sea taste profile
$125 / 1 oz
ITALIAN OSETRA
Acipenser transmontanus
Medium-size shiny black pearls, subtle and fruity
$75 / 1 oz
$150 / 2 oz
AMERICAN HACKLEBACK
Scaphirhynchus platorynchus
Small jet-black pearls, pleasantly buttery and sweet
$25 / 1 oz
$50 / 2 oz
$100 / 4 oz
SALMON ROE
Large deep orange to red pearls with an intense, briny tang
$6.99 / 2 oz
EAST COAST OYSTERS
WELLFLEET
Massachusetts
Plump, sweet, crisp, and clean
Market Price
SEWANSECOTT
Virginia
Market Price
EAST BEACH BLONDES
Rhode Island
Smooth, silky, and delicately briny
Market Price
WEST COAST OYSTERS
KUMOMOTO
Washington
Sweet, crisp, and briny with hints of honeydew
Market Price
ROYAL MIYAGI
Washington
Smooth, bright, and mildly briny
Market Price
KUSSHI
British Columbia
Plump, buttery, rich, and slightly fruity
Market Price