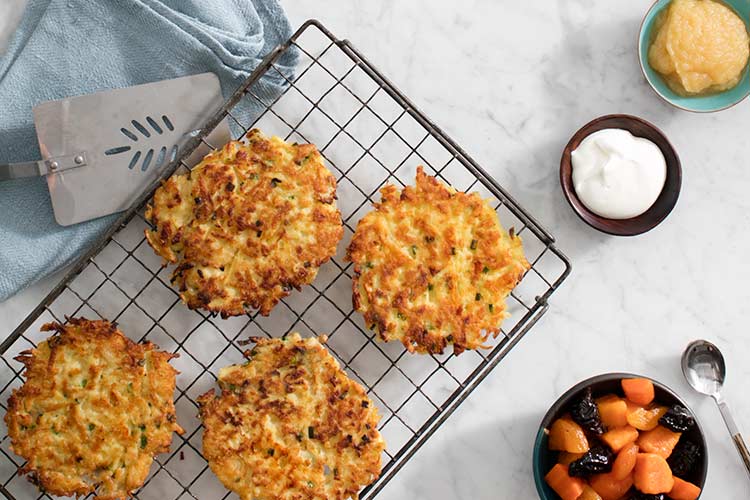 In the midst of the hustle and bustle that December brings, let us help light up your Hanukkah celebration with our delectable menu of made-from-scratch classic dishes and fresh-baked desserts.
Hanukkah begins next week which means from December 8th – 18th, our Prepared Foods counter will have all the sides, main courses, and sweet treats you'll need for your feast.
Even though you might not be gathering with the usual friends, family and loved ones this year, we're still here to help you celebrate the festival of lights. Whether or not your dinner crowd is limited to a couple people, our Prepared Foods counter will help you enjoy the same classic dishes (in any quantity) that you've looked forward to all year long. Of course, we'll have our slow-cooked brisket, potato latkes, and our bright and festive side dishes all made with love right here in our own Park Slope kitchen.
We've got dessert covered too, with a wide assortment of treats from local bakeries, like babka from Lilly's Baking Company, fluffy challah from Las Delicias Patisserie, and chocolate gelt from Divine Chocolate. Scroll down to see everything our Hanukkah menu will be offering this year.
Happy Hanukkah from all of us at Union Market!
MAINS & SIDES
Available December 8 – December 18, 2020
at our Prepared Food counter
 TRADITIONAL BRISKET WITH CARROTS & ONION
$17.99 / lb
ROTISSERIE CHICKEN
Adobo, Lemon Herb, Rosemary & Garlic, and Salt & Pepper
$4.79 / lb
POTATO LATKES
$2.99 each
APPLE SAUCE
$4.99 / pint
TZIMMES
$6.99 / lb
DESSERTS
 BLUE & WHITE MINI COOKIES
Lilly's Bake Shoppe
CLASSIC BABKA
in Chocolate or Cinnamon
Lilly's Bake Shoppe
VEGAN RUGELACH
in Chocolate or Raspberry
Lilly's Bake Shoppe
GLUTEN-FREE RUGELACH
in Chocolate or Cinnamon
Las Delicias Pastisserie
ASSORTED COOKIES
Rainbow, Linzer, and Crinkle Cookies
Lilly's Bake Shoppe
CHOCOLATE GELT
Lake Champlain Chocolate
Divine Chocolate