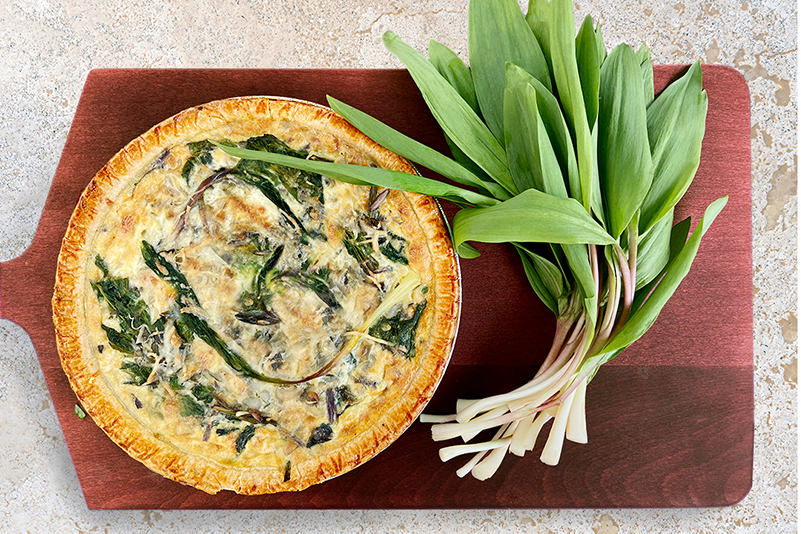 Here at Union Market, we're making an effort to be grateful for all of the things we can celebrate right now, even amidst a global pandemic. Not only is it peak season for ramps (a culinary highlight of spring!), but with Memorial Day coming up, this weekend will mark the unofficial beginning of summer and we can start to look forward to more sunshine and warmer weather.
Chef Sandro Romano has created a delicious new quiche for Union Market to showcase the garlicky goodness of ramps. This limited-time-only quiche also contains sweet peas, spinach, parmesan, and mint and it makes a lovely centerpiece for brunch or the ideal contribution to any Memorial Day picnic. You can find it at our Prepared Food counter right now—but hurry, because ramps season is notoriously brief and you don't want to miss it!
Another new item you'll find in our Prepared Food department is slow-roasted red and white onions drizzled with olive oil and fresh parsley—the perfect side dish to pair with our ramp quiche! These tender, caramelized onions truly let simple, fresh flavors shine.
We're also delighted to announce that after a hiatus of several weeks, we're resuming our bi-weekly specials, just one more reason to celebrate this week! Beginning today, we have some great items on special through June 3, 2020, including two Union Market brand favorites: our fresh-squeezed Florida orange juice and our Park Slope Blend coffee.
And since most New Yorkers are celebrating Memorial Day weekend a little more quietly than usual this year, why not take advantage of our newest specials and indulge a little while also saving a buck or two—say, for example, with some mouth-watering options for the grill! Schaller & Weber premium bratwurst is currently  $2.00 off and you can also save $1.50 per pound D'Artagnan ground Wagyu beef—perfect for a rich, juicy burger topped with some aged Grafton Village cheddar (also on currently on special).
And for dessert, we have two delicious options on special: Junior's famous New York-style cheesecake and Nutty Bunny organic, vegan, Paleo-friendly "ice cream."
Whether you're venturing out or staying in, we hope you have a safe, happy, socially distanced Memorial Day!