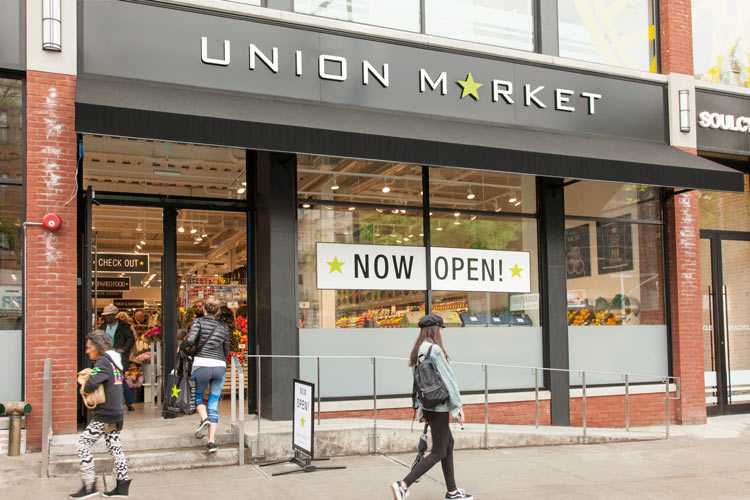 We're beyond excited to announce the grand opening of our newest store, located at 342 Flatbush Avenue between Sterling Place and 8th Avenue near Grand Army Plaza in Brooklyn.
The doors open at 11AM on Wednesday, May 16th, and we'll be celebrating with giveaways and treats, plus great deals on some of our most popular items with our Grand Opening Specials.
The first 200 customers on opening day will receive a free Union Market tote bag, and free coffee and bagels will be served while supplies last. And be sure to enter our raffle—to top it all off, we're inviting all of our opening day shoppers at our Grand Army Plaza location to enter for a chance to win a $250 Union Market gift card.
We hope you'll join us for opening day at Grand Army Plaza location! Our love of food and commitment to community will be apparent in this store, just as it is in our all of our other four locations. As always, our focus is on bringing our customers healthy, delicious, and innovative food without compromising on the values that matter most to us—quality, convenience, and sustainability.
Highlights of our Grand Army Plaza store, our largest in Brooklyn, include:
The sushi counter, presented in partnership with Rosanjin Tribeca, is a first for Union Market in Brooklyn. It features 50 sushi menu items, including favorites like Sushi Brown Rice Salmon Avocado, Sushi Komaki Combo, Sushi Brown Rice Roll and Nigiri, and Sushi Tuna Avocado Roll, made fresh on-site every day, as well as seaweed salad and a variety of dumplings.
Soup & Sandwich Lunch Special
Our popular $9.99 lunch special, featuring a selection of sandwiches and Hale and Hearty soups, which changes daily, comes to Grand Army Plaza.
Our prepared food and grab-and-go items are developed by our very own chefs, led by Culinary Director and Executive Chef Sandro Romano, to showcase the most flavorful options of the season. For the new store opening, featured menu items include: Quinoa Salad with tri- colored quinoa, radishes, snap peas, peas, fava beans, crunchy sprouts and pearl onions; black Rice and Shiitake Salad with edamame, red bell peppers, wax beans and scallions; and Brown Rice with Shaved Golden Beets, fennel, sunflower seeds, crunchy sprouts, red onion, mint and sherry vinaigrette.
All of our beef, pork, lamb, and poultry is humanely raised, guaranteed antibiotic- and growth hormone-free and fed only a vegetarian diet. Our fresh seafood is sustainably sourced and fully traceable.
We offer more than 160 varieties of domestic and imported cheese, including local and regional options, artisanal offerings and imported classics.
Our dairy case is filled with milk, yogurt, butter, and other products from local favorites like Ronnybrook, Five Acre Farms and Hudson Valley Fresh.
We offer free home delivery within a 10-block radius of the store, with variable charges for deliveries to locations further afield. Visit our Home Delivery page to read more about our delivery options.
Our customers can order by phone or online and leave it to us to prepare their orders and bring them out to the car when they pull up.
And of course, we're proud to support local farmers and producers by offering high-quality local products and produce whenever possible from local favorites like Gotham Greens, Satur Farms, Ample Hill Creamery, Mast Brothers, NuNu Chocolate, Orwasher's, Bien Cuit, Pain d'Avignon, Sugar Sweet Sunshine, Steve's Authentic Key Lime Pie, and much, much more.
We're thrilled to be coming to Grand Army Plaza, and we hope to see you in our new store!