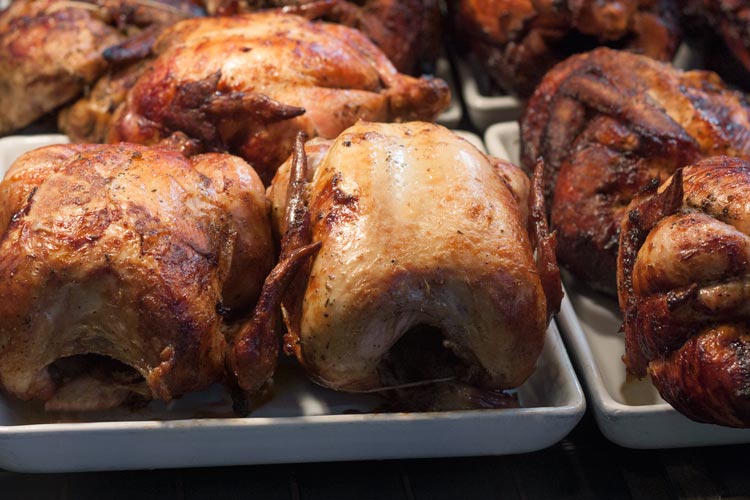 To celebrate the opening of our fifth location this week, we're delighted to offer these grand opening specials at the Grand Army Plaza location and at our flagship store on Union Street in Park Slope from May 16th until May 30th, in addition to our regular biweekly specials.
Scroll down to see all of the deals we'll have available, and we hope you'll join us for the festivities on opening day, Wednesday, May 16th. Our doors open at 342 Flatbush Avenue at 11AM—see you there!
GRAND ARMY PLAZA – GRAND OPENING SPECIALS
Good through May 30, 2018. Available at two locations only: 342 Flatbush Ave. and 754-756 Union St.
Free-Range Rotisserie Chicken
SALE: $3.99 / lb
Reg. $4.69 / lb
Celebrate the opening of our newest location at Grand Army Plaza with a discount on our all-natural, free-range rotisserie chickens! Humanely raised on family farms in Pennsylvania without the use of antibiotics and available in four mouthwatering flavors. (Available at all five Union Market locations.)
Backyard Beauty Tomatoes on the Vine
SALE: $1.99 / lb
Reg. $3.49 / lb
Nothing beats fresh, delicious, vine-ripened tomatoes! Stuff them, slice them, dice them, roast them or enjoy them in endless varieties of dishes, from pasta to salads to pizza. Their juicy flavor, sweet fragrance, and rich texture won't disappoint. (Available at all five Union Market locations.)
2 FOR $3.00
Reg.  $1.99 each
Our rich, creamy avocados will liven up almost any dish. Packed with vitamins, minerals, beneficial fiber, and healthy monounsaturated fats, avocados are a nutritional powerhouse. Perfect for guac, salads and, of course, avocado toast.
$1.00 OFF
Reg. $3.99 / 5 oz
Long Island-based Satur Farms is committed to sustainable farming, sound agricultural practices, and maintaining the health of the soil, and you can taste the difference in their superbly fresh greens. Special includes all varieties.
Union Market Extra Virgin Olive Oil
$4.00 OFF
Reg. $12.99 / 750 mL
Light-bodied and fruity, with a touch of pepper at the finish, our olive oil is cold-pressed and bottled in central Italy from 100% Italian olives. Versatile and economical enough to use every day, and delicate and delicious enough to use for special occasions.
$1.50 OFF
Reg. $5.49 / 25 oz
We use only the season's best Jersey tomatoes and the highest quality natural ingredients like extra virgin olive oil, pure sea salt, and fresh herbs. No added sugar, artificial ingredients, or tomato paste here! Stock up at a fantastic price.
3 FOR $5.00
Reg. $2.19 each  / 16 oz
Using top-grade durum semolina wheat and traditional techniques, each piece of pasta is extruded through a bronze die to create a subtle rough texture that allows your favorite sauce to stick. Excludes whole wheat, gluten-free, and pappardelle.
$1.00 OFF
Reg. $4.99 / 7 oz
Our very special house pesto is the perfect showcase for the delicious ingredients that go into it. Fresh basil, pine nuts, extra virgin olive oil, and garlic come together in a bright green sauce that's ideal with a plate of pasta or on pizza or sandwiches.
$2.00 OFF
Reg. $9.99 / pint
For nearly 70 years, this family-run operation from California has been churning out small-batch ice creams in fantastic flavors. Made with grass-fed milk and cream, as well as locally and sustainably sourced fruits and nuts. Stock up while it's on sale!
$1.00 OFF
Reg. $9.99 / 16 oz
Our coffee comes in a variety of roasts and flavors to suit every palate. We source our beans from the finest coffee-growing regions in the world and then custom-blend and locally roast them right here in NYC. Special includes all varieties!
$3.00 OFF / lb
Reg. $19.99 / lb
Free of antibiotics and added growth hormones, our certified humanely raised Angus beef makes a flavorful and tender steak, and NY strip is one of our favorite cuts with its succulent flavor and toothsome chew.
Union Market Orange Juice
$1.00 OFF
Reg. $6.99 / 64 oz
From tree to bottle to store in just a couple of days, our orange juice is made with only the finest fruit available, nothing ever added or taken away. Simple, pure Florida-in-a-glass. Special includes our half-gallon size only.
$2.00 OFF / lb
Reg. $7.99 / 64 oz
Made fresh in Brooklyn and delivered to our door all week long. Essential for hearty dishes and lighter fare alike, so whether you're making lasagna, baked ziti, or a summer caprese salad, take advantage of this deal while you can. Excludes smoked mozzarella.
$1.00 OFF
Reg. $3.99 / 16 oz
What sets Health-Ade kombucha apart? This naturally effervescent tea is made of only the finest raw ingredients, fermented with live cultures, and flavored with fresh seasonal fruits. 100% raw, vegan, and organic. Pick a flavor, make it a habit.
$4.00 OFF / lb
Reg. $17.99 / lb
The king of cheeses! Made from unpasteurized cow's milk the same way it's been produced for centuries, this inimitable cheese is a must-have in classic Italian cuisine. Grate it over pasta, shave it over a salad, or stir it into soup or risotto.
Union Market Vermont Cheddar
$1.00 OFF
Reg. $5.99 / 8 oz
Produced by a dairy cooperative with 100% Vermont milk and vegetarian-approved rennet and aged for one year, our house cheddar is dense, buttery, creamy, and tangy. A fabulous price on a classic Vermont cheddar that's great for snacking!