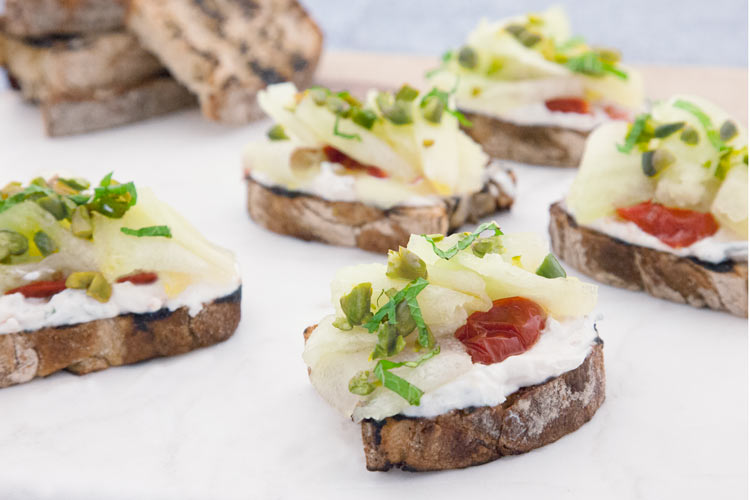 These delicious, simple-to-make bruschette are the perfect way to wake your taste buds up to the fact that summer is on its way.
Start with some beautiful slices of sourdough bread, grilled just enough so that they're crisp on the outside and still chewy within. Smear with a creamy and zesty mixture of goat cheese, sundried tomatoes, and mint, and top with thinly sliced honeydew melon and a scattering of toasted pistachios.
Make a big batch for your gathering this Memorial Day weekend—these bright, flavor-packed treats are just the thing for entertaining on the patio over a glass of rosé.
Goat Cheese and Mint Bruschetta with Honeydew and Pistachio
Serves 4
INGREDIENTS
4 thick slices of sourdough bread
1 large clove garlic, cut in half crosswise
5 oz goat cheese at room temperature
4 sundried tomatoes, roughly chopped
2 tbsp mint, sliced
2 tbsp extra virgin olive oil
½ honeydew melon peeled and finely sliced with a mandolin or a vegetable peeler
2 tbsp shelled pistachios, toasted and crushed
Salt and pepper to taste
INSTRUCTIONS
First toast or grill the bread. While the grilled bread is still warm, rub it on all sides with the cut pieces of garlic.
In a medium bowl, combine the goat cheese, olive oil, chopped sundried tomatoes, mint, and salt and pepper to taste. Mix well.
Spoon an even layer of the goat cheese mixture on each bruschetta. Top with the thin slices of melon rolled up loosely. Scatter with the toasted pistachios and drizzle with extra virgin olive oil before serving.