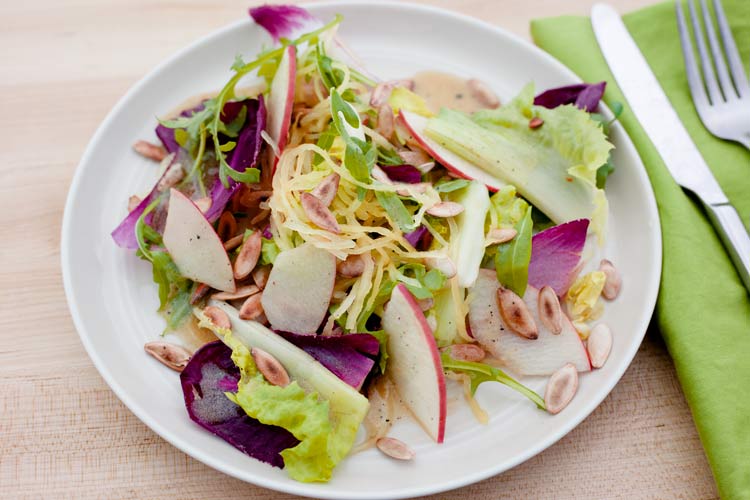 Summer may be over but that doesn't mean that it's the end of your salad days.
Fall has its own share of gorgeous produce—lovely bittersweet lettuces, squashes in fabulous fall colors, and dozens of varieties of fantastic NY State apples just waiting to be turned into pies, tarts, or sliced into salads like this one.
This beautiful seasonal salad combines all the best parts of the season—roasted spaghetti squash, toasted pumpkin seeds, crisp escarole, peppery arugula, and juicy local apples.
Prepare this for a quick lunch or dinner that requires almost no cooking at all. The only work you'll have to do is slice the squash in half and give it a quick turn in the oven. If you're pressed for time you can even roast a large batch of squash ahead of time and make this salad whenever you have a craving for it during the week.
Autumn Salad with Red Endive and Apple
Serves 4-5
INGREDIENTS
1 small spaghetti squash
Salt and pepper to taste
2 tbsp extra virgin olive oil, plus extra for brushing the squash
3 tbsp apple cider vinegar
1 tsp Dijon mustard
2 heads red endive, trimmed and cut on the bias into 1 inch-thick slices
1 small escarole, trimmed, leaves removed, washed, and cut in large pieces
3 cups wild arugula
2 unpeeled local NY state apples (Fuji, Gala or Honeycrisp are all great options), cored, cut into quarters, and thinly sliced
3 tbsp toasted pumpkin seeds
INSTRUCTIONS
Preheat the oven to 400°F.
Cut the spaghetti squash in half crosswise and remove any seeds from the inside of the squash.
Season the inside with salt and pepper and lightly brush with olive oil.
Place on a baking sheet flesh-side-down and roast on the middle rack of the preheated oven for 20 minutes.
Let the squash rest on the baking sheet for 10 minutes or until cool enough to handle.
Using a fork, remove the spaghetti-like strands of cooked squash. Place in a medium bowl and let cool.
In a small bowl, whisk together the vinegar, and mustard. Add salt and black pepper to taste.
Add the olive oil in a thin stream to the small bowl, whisking constantly as you do to make a smooth emulsion.
Toss the endive, apples, wild arugula, spaghetti squash, and escarole together in a large serving bowl. Drizzle with the dressing and mix once or twice very gently, taking care not to bruise the salad. Garnish with the toasted pumpkin seeds and serve immediately.