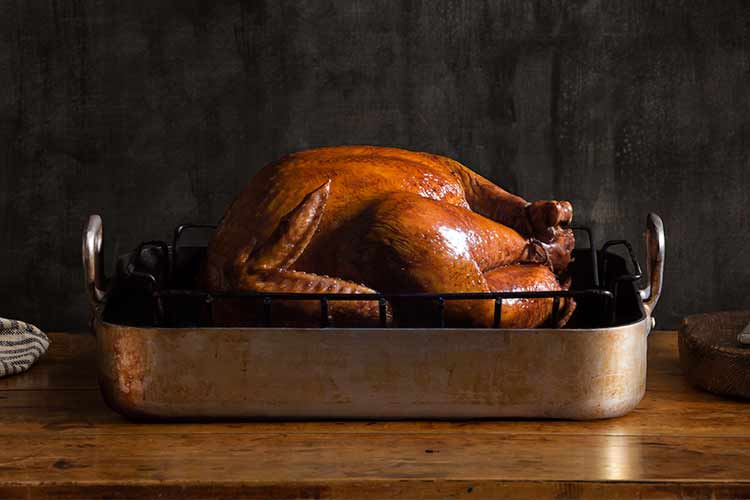 Thanksgiving is almost here, and it's time to talk Turkey! We know that finding and cooking the perfect Thanksgiving turkey can be a fraught and intimidating affair. So we take all the guesswork out of every part of the process.
First things first: the bird itself. Stop by or call one of our stores today and order from our wide range of fresh turkeys—all of our birds are fresh (never frozen), humanely raised, antibiotic-free, and available at great prices. Our deadline for ordering is Friday, November 18th, but supplies of turkeys in specific weight ranges are limited, so place your order early!
If you're confounded by all the options for turkey recipes out there, don't be! Check out our favorite Thanksgiving Turkey recipe for advice on how to make the best hassle-free roast turkey, with tender, juicy meat and perfectly crisp skin.
And if you need a little help with Thanksgiving Day side dishes, we'll have plenty of seasonally inspired dishes and classic accompaniments available at our Prepared Food counter.
FREE-ROAMING TURKEYS – $2.49 lb
Free-roaming, humanely raised fresh turkeys from Plainville Farms in Pennsylvania. Raised on an all-vegetarian diet without the use of antibiotics.
OVEN-READY BRINED TURKEYS – $2.99 lb
Our free-roaming, humanely raised and antibiotic-free turkeys from Plainville Farms are also available brined and oven-ready, so all you have to do is stuff, truss, and roast them.
ANTIBIOTIC-FREE KOSHER TURKEYS – $3.99 lb
Certified kosher fresh turkeys from Wise Organic Pastures. Free-range, humanely raised, and antibiotic-free.
PASTURE-RAISED ORGANIC TURKEYS – $4.99 lb
Certified organic fresh turkeys from Hidden Camp Farm in New York State. Raised on green, grassy pastures, with the ability to roam freely.
Place your turkey order by phone or in person at your nearest Union Market. Orders must be placed by Friday, November 18th, 2016.
Please place your order at the store location where you wish to pick up; credit card information is required to place an order, and orders not picked up are subject to a 50% cancellation fee.
Supplies of turkeys in specific weight ranges are limited, so order early!