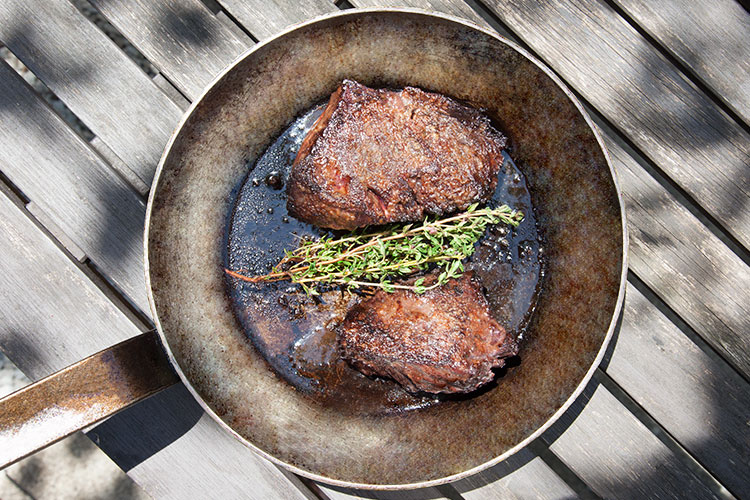 It's getting to be grilling season, and we've got just the thing for your backyard barbecue. This easy-to-make and deeply flavored hanger steak is infused with the heady flavors of red wine, bay leaves, thyme, garlic, and black peppercorns, and it can be made on the grill or the stovetop with equally delicious results.
There's a secret ingredient in the marinade that makes the steak especially tasty, according to Union Market's own Chef Sandro Romano. He uses green papaya or pineapple in this recipe, and the natural enzymes from the fruit help tenderize the meat and give it a luxurious texture. It sounds unusual, but try it—this may just end up being your go-to steak all summer long!
Red Wine-Marinated Hanger Steak
Serves 2
INGREDIENTS
1 lb cleaned hanger steak
2 cups full-bodied red wine such as Cabernet Sauvignon, Tempranillo, or Sangiovese
2 sprigs of thyme
2 bay leaves
2 garlic cloves, lightly crushed with the side of a knife
1 cup of pineapple or green papaya, cut into fine dice
1 tbsp black peppercorns, coarsely crushed
1 jalapeno, sliced in half lengthwise
1 medium zip-top bag
2 tbsp rice flour or all-purpose wheat flour
1 tsp salt
INSTRUCTIONS
Stand the zip-top bag in a container with the opening folded out over the sides of the container. This will make it easier to place the marinade and steak inside it.
Combine all the ingredients except for the flour and salt in the zip-top bag. Seal the top of the bag, squeezing the bag gently as you go in order to remove as much air from the bag as possible. This will make for easier storage in the fridge.
Once the bag is sealed, let the steak marinate in the fridge. Chef Sandro recommends marinating the steak for 3-4 days, turning the bag over once every day. If you're in a hurry, even a 1-day marinade will yield great results.
Ten minutes before you plan on cooking your steak, remove from the marinade and pat dry with paper towels. Let it air dry on a double thickness of paper towels for ten minutes.
When you're ready to cook, sprinkle the salt onto both sides of the steak, and gently massage it in.
Preheat a cast-iron pan or sauté pan over high heat with 2 tablespoons of olive oil in it.
Dip the steak in rice flour or all-purpose flour to coat it well on both sides.
When the oil is shimmering and hot, add the steak and cook, undisturbed, for 3-4 minutes per side for medium rare.
Let the steak rest on a cooling rack, loosely covered with foil, for 2 minutes before carving and serving.
To make an accompanying sauce for the steak, strain the marinade into a small saucepan and reduce over medium-high heat until reduced by two-thirds. Finish the sauce by whisking in an ounce of softened butter after removing from the heat. Season to taste.
Grilling Notes:
If you're using a grill, there's no need to coat the steak in flour first. Instead, dry with paper towels and brush both sides with 1 tbsp of olive oil.
If using a gas grill, preheat to high heat. If you're using coals, use bright, fresh embers to grill the steak. You shouldn't be able to comfortably hold your hand over the coals for more than 4 or 5 seconds.