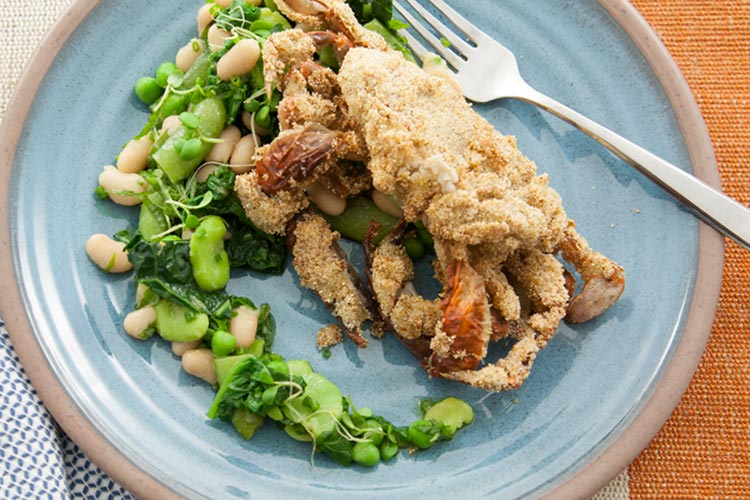 The arrival of soft shell crabs in markets is one of the surest signs that spring has arrived in the Northeast. Celebrate the return of these highly coveted shellfish with a dish that combines crisp, pan-fried soft shell crabs with a refreshing salad of sweet English peas, herbaceous fava beans, crunchy sugar snap peas, and peppery mustard greens, created specially for our shoppers by Chef Sandro Romano.
In case you're intimidated by the thought of cleaning crabs, don't be: we can take care of all the hard work for you. Just ask us to clean your fresh soft shell crabs when you pick them up at the seafood counter at any of our stores.
And our produce department is overflowing with spring specialties, too. We have fresh and flavorful English peas, fava beans, sugar snap peas, and mustard greens, so you can turn out this delicious and seasonally inspired meal in a flash.
Crisp Soft Shell Crabs with Fresh Fava and Spring Pea Salad
Serves 4
Ingredients
4 cleaned soft shell crabs
1 cup buttermilk
2 cups cream of wheat
Pinch of cayenne pepper
Salt and pepper to taste
½ cup olive oil for frying
Salad:
3 oz blanched English peas
3 oz blanched sugar snap peas
3 oz cooked cannellini beans
2 oz blanched and peeled fava beans
10 oz blanched mustard greens, roughly chopped
6 mint leaves, thinly sliced
1 tbsp sherry vinegar
1 tbsp lemon zest
2 tbsp hazelnut oil
Instructions
Place the crabs in a nonreactive bowl (glass, plastic, or stainless steel) and season with salt, pepper, and cayenne pepper.
Pour the buttermilk over the crabs and toss to coat the crabs liberally in the liquid. Let marinate for 10 minutes.
Drain the crabs and discard the buttermilk.
Toss the crabs with the cream of wheat in a medium bowl.
Working quickly, heat the olive oil in a sauté pan until it begins to shimmer.
Add the crabs to the pan, making sure not to crowd them or else they will steam instead of getting crisp.
Let them cook for 5 minutes, turning them over halfway through the cooking time. The crabs should have a thin, golden crust when they are done.
Remove to a paper-towel-lined plate and set aside in a warm place while you prepare the salad.
Combine all the salad ingredients in a mixing bowl and toss well. Season to taste.
Serve the salad on four plates or one large platter, with the crisp crab on top.