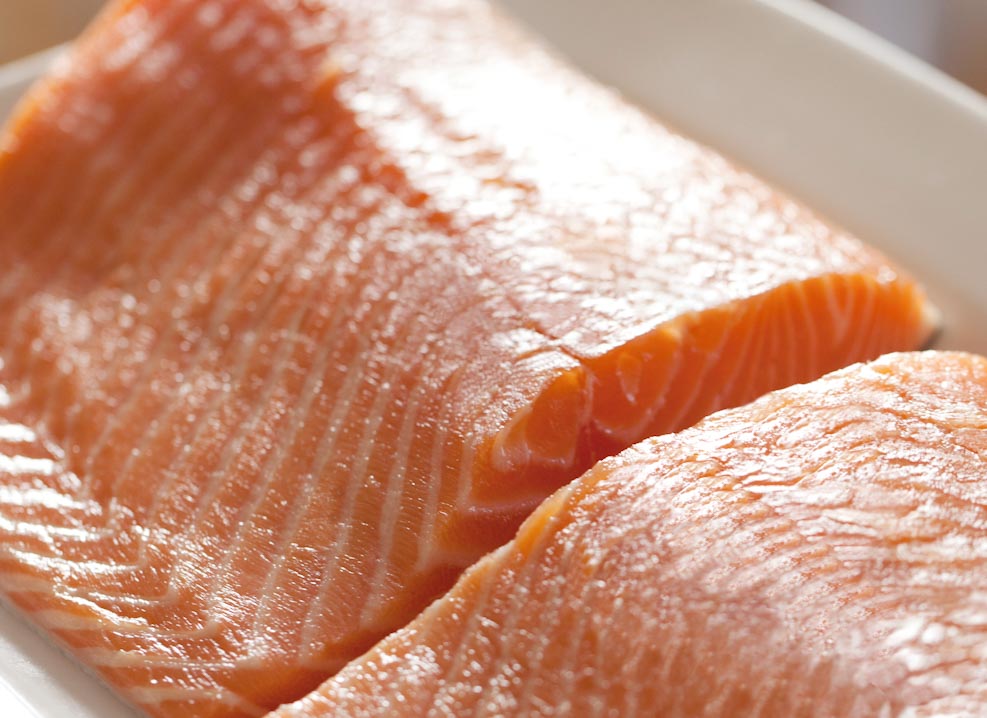 These three recipes are a few of our favorite ways to enjoy wild salmon while it's in season. The recipes will, of course, work with farm-raised salmon as well (like our exceptional, sustainably-raised Faroe Islands salmon), but we strongly suggest treating yourself to the densely flavorful, succulently textured bounty of wild-caught fish while the season lasts!
WILD SALMON FILLET WITH LEEKS
Serves 2
INGREDIENTS
2  8 oz fillets of wild salmon
2 leeks, halved lengthwise, washed thoroughly and thinly sliced, or 12-18 fresh ramps (while that season lasts), roots trimmed off, stalks and leaves well rinsed, stalks finely chopped and leaves cut in ½ inch strips
½ cup of parsley, chopped
3 tbs olive oil
1 lemon
Salt and pepper to taste
INSTRUCTIONS
Preheat the oven to 400 degrees.
Place the salmon fillets in a nonstick oven-safe baking dish, skin side up. Lightly salt and pepper the salmon, then sprinkle with parsley, and top off with the leeks or ramps. Drizzle with the olive oil, and squeeze the juice of half of the lemon on top.
Bake for about 20 minutes, or until just firm to touch. The leeks on top should have softened and nicely browned. Serve each salmon fillet with wedges cut from the remaining lemon.
GRILLED WILD SALMON WITH SOY-MAPLE GLAZE
Serves 4
INGREDIENTS
¼ cup soy sauce
3 tbs pure maple syrup
3 tbs Asian sesame oil
4  8 oz wild salmon steaks, or 8 oz fillets
1  2-inch piece of fresh ginger, peeled, thinly sliced and smashed
2 garlic cloves, smashed
2 scallions, very thinly sliced
INSTRUCTIONS
In a shallow dish large enough to hold the salmon in one layer, whisk the soy sauce, maple syrup and sesame oil together. Add the salmon and turn to coat thoroughly. Rub the ginger and garlic around and into all sides of the salmon, and leave it in the dish. Cover and refrigerate for 2 hours, turning the salmon three or four times.
Light a charcoal grill or preheat a gas grill.
Remove the salmon from the marinade. Pour the marinade into a small saucepan and boil over high heat until syrupy, about 3 minutes. Strain the glaze into a small bowl.
Oil the grill and cook the salmon over glowing coals or moderately high heat for 6 minutes. If using fillets, start with the skin side down. If using steaks, rotate them ninety degrees after 2 minutes to make crosshatches, if desired.
Turn the salmon over and grill for another 5 – 6 minutes, or until just firm to touch. Transfer to serving plates and spoon the glaze on top. Sprinkle with scallions and serve.
This recipe can be used with either salmon steaks or fillets.
Wild Salmon Cakes
This recipe is a great use of any leftover cooked salmon!
INGREDIENTS
¾ lb Russet or Yukon Gold potatoes, peeled
1 lb cooked wild salmon, either fillets or steaks, skin and bones removed
2 tbs olive oil
1 small bunch of Italian parsley
1 tbs all-purpose flour, plus more for dusting
¼ tsp salt
Freshly ground pepper, to taste
1 large egg, lightly beaten
2 lemons
Canola, corn, or other vegetable oil for frying
INSTRUCTIONS
Cut the potatoes into fairly even 1-inch chunks, and boil them in a large pot of salted water until tender, about 10-12 minutes. Drain, remove to a large bowl, and allow them to cool. When cool enough to handle, mash the potatoes until smooth, helping any remaining heat or steam to escape.
Pick the leaves from the parsley and chop them finely, discarding any stems.
Flake the salmon into the cooled, mashed potatoes adding 1 tablespoon of flour.  Add the egg, chopped parsley and the salt and pepper. Zest one lemon and add the zest to the fish mixture. Blend well.
Dust a work surface with flour and divide the fish cake mixture into 4. Lightly shape into patties about ¾ of an inch thick, dusting them with flour as needed. Don't pack the patties too tightly. Dust a plate large enough to hold the patties in a single layer with flour, place the salmon cakes on it and refrigerate them for at least an hour before cooking. (This will help them keep their shape.)
Pour ½ an inch of cooking oil in a large frying pan. Heat on medium-high.  When the oil is hot, add the salmon cakes and cook for about 3 – 4 minutes per side, until crisp and golden. Serve immediately, with a wedge of lemon for drizzling.