Tired of gluten-free baked goods that feel like a runner-up rather than a showstopper? We've got just the thing for all you bakers who are looking for wheat-free alternatives and don't want to sacrifice flavor or texture.
Orly Gottesman is the woman behind Blends by Orly, a line of gluten-free flours specially blended to satisfy even the most discerning baker. Orly, who trained at Le Cordon Bleu, developed her five signature blends over the course of her travels across countries and continents.
Want to make cookies, scones, and shortbread with the perfect tender crumb? Give her London blend a try. Need a rustic Italian loaf? Break out the Tuscany. You can't go wrong with her Sydney blend for the perfect brownie or muffin. If you're in the mood for cupcakes or a beautiful layer cake, you can rely on her Paris blend. And when you want a gluten-free taste of the best New York has to offer, whether it's bagels or brioche, go no further than her Manhattan blend.
All of Orly's flours are made from locally sourced ingredients and manufactured in upstate New York to the highest quality specifications, and all are certified gluten-free, kosher, and dairy-, corn-, and nut-free.
Pick up one of a bag from any of our Union Market locations and try out one of the recipes Orly provides with each bag. Here's her recipe for carrot cake with cream cheese frosting, just in time for spring baking.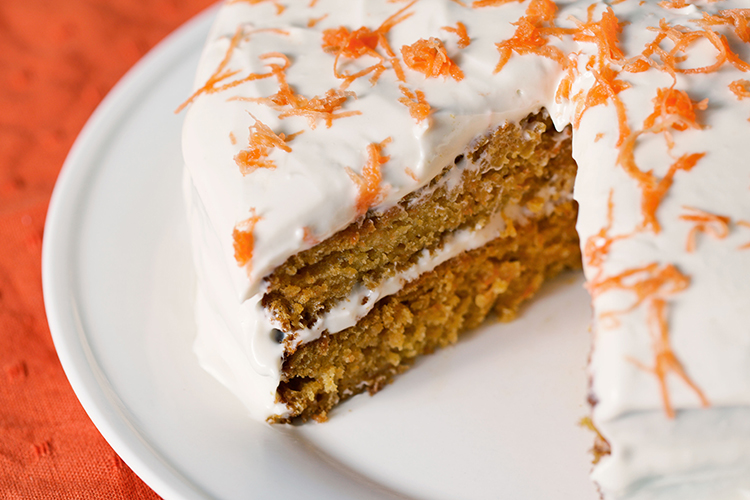 Orly's Gluten Free Carrot Cake with Cream Cheese Frosting
Makes 1 two-tiered 9-inch cake
Cake
¾ pound raw carrots
2 cups Paris Blend
1 tsp baking soda
1 ½ tsp baking powder
½ tsp salt
1 ½ tsp cinnamon
4 eggs
1 ½ cups granulated sugar
1 cup canola or vegetable oil
2 tsp vanilla extract
Cream Cheese Frosting
¼ cup unsalted butter, softened
8 ounces cream cheese, softened
2 cups confectioner's sugar
1 tsp vanilla extract
Heat
Preheat oven to 350°F. Grease two 9-inch round springform pans and line the bottom of each with a circle of parchment paper.
Mix
Peel and finely grate the carrots. In a separate bowl, mix together the Paris Blend, baking powder, baking soda, salt, and cinnamon.
In the bowl of your electric mixer with the paddle attachment, mix the eggs and sugar together until light in color. Add the oil steadily and then the vanilla. Add the flour mixture to the bowl and beat until all ingredients are incorporated. Fold in the grated carrots with a rubber spatula. Evenly divide the batter into the two prepared pans.
Bake
Bake for 35-40 minutes or until a toothpick inserted into the center comes out clean. Remove from oven and let cool on a wire rack before frosting.
Frosting
In an electric mixer, or with a hand mixer, cream the cream cheese and butter until smooth and well blended. Add the vanilla extract. With the mixer on low speed, gradually beat in the sugar. Scrape down the sides of the bowl. Beat on high speed until frosting is light and fluffy (about 3-4 minutes).
Assemble
Place one cake layer onto your serving plate. Spread with about half the frosting. Gently place the other cake onto the frosting and spread the rest of the frosting over the top of the cake. If desired, garnish with crushed walnuts on the top and sides of the cake.
Make this and other treats using one of Orly's signature blends—and let us know how you like them!