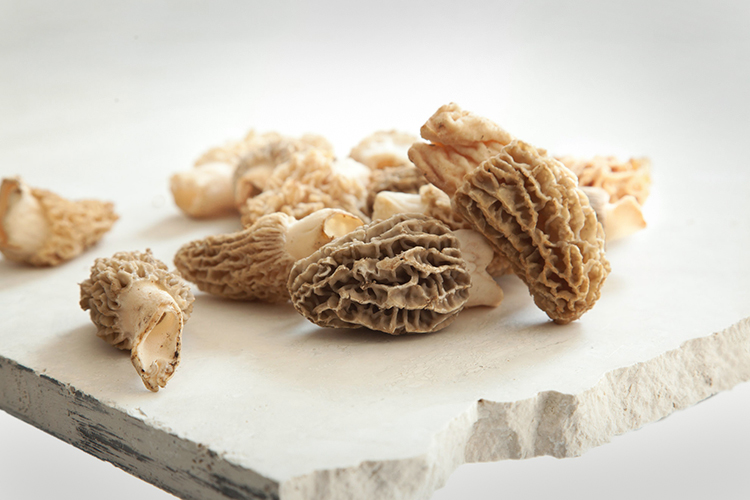 Not so long ago, the term "wild mushrooms" really meant just one thing: mushrooms that grew in the wild. If you knew what you were doing, you went out into the woods and picked them from the base of oak trees or among sheltering scrub.
With the explosion of specialty foods from the early 1980s on, the awareness and demand for a variety of fresh wild mushrooms created a new need for supply. Traditional growers found quite quickly that they could cultivate many of the varieties found in the earth's forests and fields. Some species, however, could not be replicated out of their natural environment, so a number of familiar types of mushrooms remain harvested by hand from their native woodlands.
The wide disparity in the cost of mushrooms (sometimes as much of a range as from $4 per pound to $50!) is largely defined by those fungi that are scavenged as opposed to farmed. Union Market usually stocks a dozen or more varieties of both cultivated and foraged wild mushrooms every day, so we've prepared a brief guide to the delicious but sometimes intimidating world of wild mushrooms.
WHITE BUTTON
Cultivated
The mushroom we all grew up with, the most common of the Agaricus bisporus variety. Mild flavor, firm texture, can be eaten raw.
PORTOBELLO
Cultivated
This giant-capped mushroom has become the vegetarian darling over the last two decades. Its meaty flavor and firm texture make it the perfect meat alternative.
CREMINI / BABY BELLA
Cultivated
Also known as Brown or Italian Brown mushrooms, creminis grow up to be portobellos, and the name Baby Bella has become the new marketing-driven identifier of that distinction. Mild, nutty, and earthy with a crunchy, durable texture.
SHIITAKE
Cultivated
Of Japanese origin, the shiitake now accounts for ten percent of all cultivated mushroom consumption. Distinctly sweet, bold, and aromatic, shiitakes have a signature chewy texture.
OYSTER
Cultivated
Also called Pleurots, oyster mushrooms get their name from both their appearance and flavor. Buttery and lightly saline, with the mild aroma of fresh fennel. Delicate to the touch but resilient in the sauté pan.
BEECH
Cultivated
The English name for the Japanese shimeji, this delicate little white mushroom maintains its crunchy texture and nutty flavor cooked and can be on the bitter side when raw.
ENOKI
Cultivated
Beautifully slender, with giraffe-like stems, enoki can be used raw in salads, dropped into soups, or quickly sautéed for almost any use.
MAITAKE
Foraged and Cultivated
Also known as Hen-of-the-Woods due to its clusters' resemblance to fanned tail feathers. The delicate overlapping caps remain al dente when cooked, and the rich, brothy flavor is umami defined.
CHANTERELLE
Foraged
So revered there are restaurants named after it, the chanterelle grows wild in the Pacific Northwest from autumn into spring and during summer in the eastern U.S. Its zesty, woody flavor is unique, with an aroma reminiscent of stone fruit.
MOREL
Foraged
The king of spring, there is no other mushroom like a morel. Their sea sponge-like appearance and pronounced beefy flavor somewhat contradict their actual delicate nature.
HEDGEHOG
Foraged
A sweet and nutty flavor with a crunchy texture. Notable to foragers as one of the only species with no toxic look-alike.
YELLOWFOOT
Foraged
A species of chanterelle that's partial to growing near evergreens with a delicate texture and a surprisingly peppery flavor when raw, but more buttery and crunchy when cooked.
LOBSTER
Foraged
They taste better than they sound: a tree trunk-borne mushroom that's been overrun by a parasitic fungus, turning them into the crimson red and very firm-textured treat we call lobster mushrooms. Genuinely seafood-like in taste and aroma. Truly a call of the wild!
TRUMPET ROYALE
Cultivated
Same family as the oyster mushroom, but its stem is as wide as its cap, so it can be sliced and served in a variety of ways. Full, savory flavor and solid texture, the trumpet royale loves high-heat cooking.
BLACK TRUMPET
Foraged
Also called Black Chanterelle or Trumpet of the Dead, they have a deep, smoky flavor that can taste almost like truffles. They are very sturdy, and their striking appearance enhances and accentuates dishes with creamy white sauces.
PORCINI
Foraged
Legendary, but mostly in its dried form, porcini are rarely seen fresh. They're highly seasonal (early summer) and found in Italy and the Pacific Northwest. Densely flavorful and textured, the porterhouse steak of mushrooms.