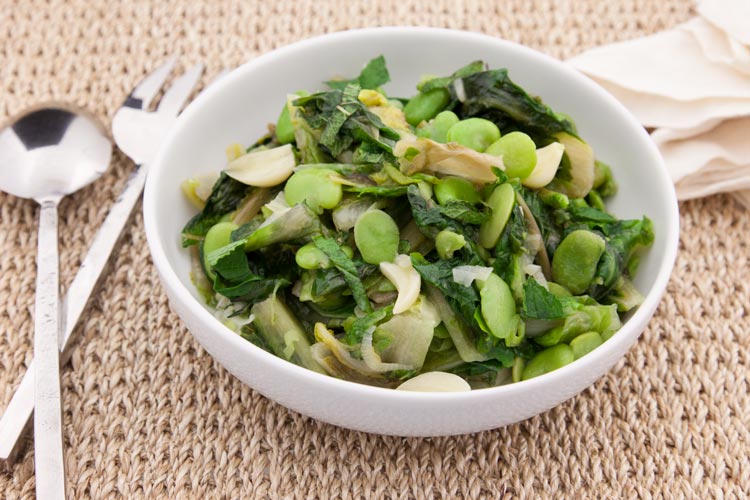 Fava beans are one of the great gifts of spring once warm weather arrives. These tender little beans have a nutty, fresh flavor and their lovely bright-green color is the perfect addition to any salad, pasta, or stir-fry.
In this recipe we've paired them with a colorful medley of lettuces which we briefly sauté in hot oil before tossing them all in a zesty, herby vinaigrette that makes a great side dish to serve alongside meat or seafood fresh from the grill.
And the best part of a salad where all the greens are deliberately wilted is that you don't have to rush to get it to the table once it's dressed. Take your time and get the rest of your meal ready—or have one more sip of rosé.
Note: If you can't find fava beans for this recipe, you can easily use sweet peas, edamame, or even sugar snap peas in their place. And though mint and thyme are delicious here, feel free to use other herbs, too, if they strike your fancy.
Wilted Lettuces with Fresh Fava Beans
Serves 4 as a side dish
INGREDIENTS
2 heads of romaine lettuce, cut into large chunks, washed and thoroughly dried
1 head of bibb lettuce, leaves cut into large pieces, washed and thoroughly dried
1 head of escarole, leaves torn into large pieces, washed and thoroughly dried
2 lbs fresh fava beans in their pods (or 1 lb removed from their pods and shelled)
½ cup extra virgin olive oil
4 oz unsalted butter
2–3 garlic cloves, peeled and split
8–10 leaves of fresh mint, sliced
Picked leaves from 1 sprig of fresh thyme
1 medium size spring onion, sliced
Salt and pepper to taste
INSTRUCTIONS
First, if you're working with fava beans still in their pods, you'll need to shell them and peel them.
While a large pot of salted water is coming to a boil, remove the fava beans from their pods, discarding any beans that are discolored or badly misshapen.
When the favas are all out of their pods, tip them into the boiling water. Cook for just 30 seconds before removing them with a strainer and shocking them in a bath of cold water.
After letting them sit in the cold water for five minutes, drain the beans and peel the thick outer skin off each of them. Set aside the prepared fava beans until needed.
To cook the lettuces, heat a large sauté pan over high heat and melt the butter. Once the butter has melted, add the olive oil. While the butter is still bubbling, add the split garlic and allow it to sizzle, stirring it occasionally to make sure it doesn't burn.
Next add the chopped spring onion, stir briefly, and then add the lettuces. Allow the lettuces to cook for about a minute before stirring them, allowing them to wilt in the hot butter.
Season with a pinch of salt and then add the fava beans and the picked thyme. Cook for another 3–4 minutes, stirring often, till the lettuces are thoroughly wilted and the aroma of the thyme and the garlic has infused them completely.
Check for seasoning and adjust with salt as needed. Add the sliced mint to the dish before serving either in a salad bowl or individual side dishes.