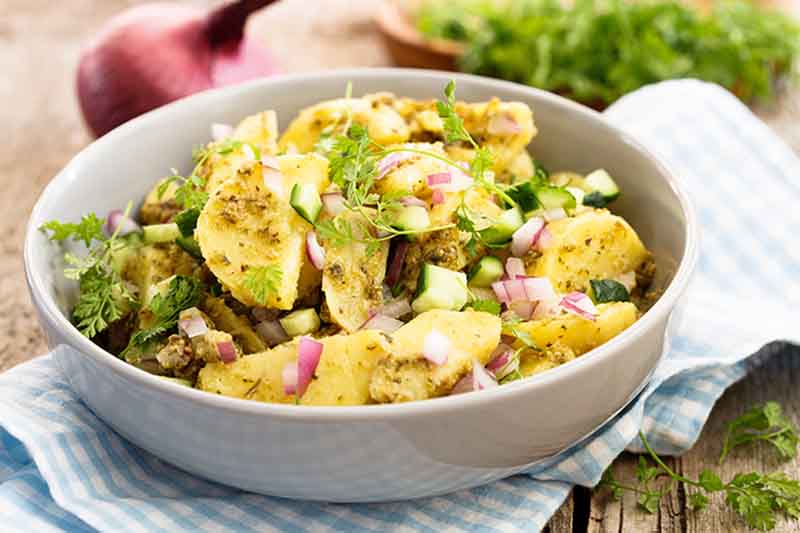 Potato salad is a classic summer side perfect for barbecues, picnics, and potlucks. But if you want to mix things up, why not add some za'atar to this timeless dish?
This Middle Eastern spice blend adds complex and delicious flavors from thyme, sesame seeds, and sumac. It's easy to make, delicious, and always a crowd-pleaser. So try this recipe at your next gathering, and watch it disappear quickly.
Mediterranean Potato Salad with Za'atar Dressing
By Sarah Diebboll
Serves 4
INGREDIENTS
2 pounds of potatoes, peeled and cut into bite-sized pieces
1 large cucumber, chopped
1/2 red onion, chopped
1/4 cup of fresh parsley, chopped
1/2 cup of olive oil
2 tablespoons of lemon juice
1/4 cup of red wine vinegar
2 tablespoons of za'atar
Salt and pepper, to taste
INSTRUCTIONS
Start by boiling the potatoes in salted water until tender, around 15-20 minutes. Once done, drain the potatoes and let them cool.
While the potatoes are cooking, prepare the dressing. Whisk together the olive oil, lemon juice, vinegar, za'atar, salt, and pepper in a small bowl.
Once the potatoes have cooled, cut them into bite-sized pieces and place them in a large bowl. Add the chopped cucumber, red onion, and fresh parsley. Pour the za'atar dressing over the toss to coat evenly.
Cover the bowl with plastic wrap and refrigerate for at least 30 minutes to allow the flavors to meld together.
Serve the potato salad chilled or at room temperature, garnished with additional chopped herbs if desired.