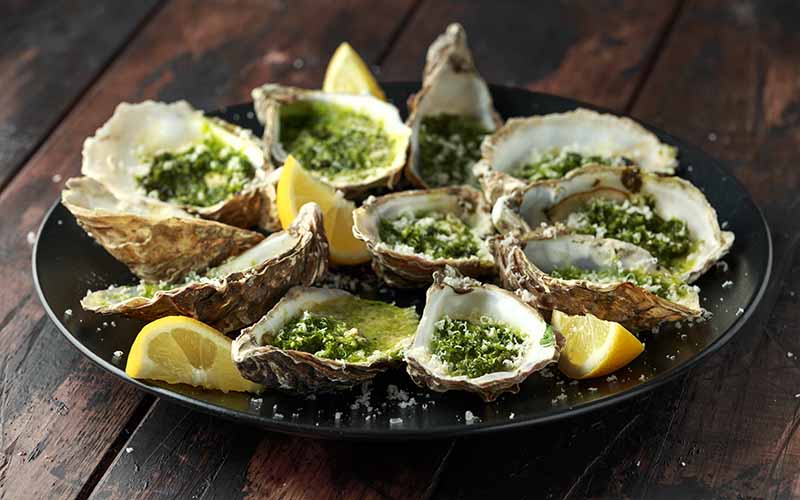 If you're a seafood lover, oysters are a special treat. The combination of flavors in this dish is truly irresistible and makes the most of ramps, one of spring's foraged delicacies.
Briny oysters are complemented by the rich and savory ramp butter, perfectly balanced by the salty and nutty notes of the parmesan cheese. Broiling the oysters adds a slightly crispy texture to the dish, making it a delight for your taste buds.
Whether entertaining guests or simply treating yourself to a special meal, this recipe for broiled oysters with ramp butter and parmesan will surely be a crowd-pleaser. So go ahead and give it a try—you won't be disappointed!
Broiled Oysters with Ramp Butter and Parmesan
By Sarah Diebboll
Serves 4
INGREDIENTS
12 fresh oysters
1/4 cup unsalted butter, softened
1/4 cup chopped ramp leaves
1/4 cup grated parmesan cheese
Salt and pepper, to taste
Lemon wedges, for serving
INSTRUCTIONS
Preheat your oven to broil.
Shuck the oysters, and discard the top shells. Arrange the oysters on a baking sheet lined with parchment paper.
In a small mixing bowl, combine the softened butter, ramp leaves, parmesan cheese, salt, and pepper. Mix well until fully combined.
Top each oyster with a small spoonful of the ramp butter mixture, spreading it evenly across the top.
Place the baking sheet in the oven and broil for 1-3 minutes, or until the butter is melted and bubbly, and the oysters are cooked through.
Remove the baking sheet from the oven and serve the broiled oysters immediately, with lemon wedges on the side for squeezing over the top.