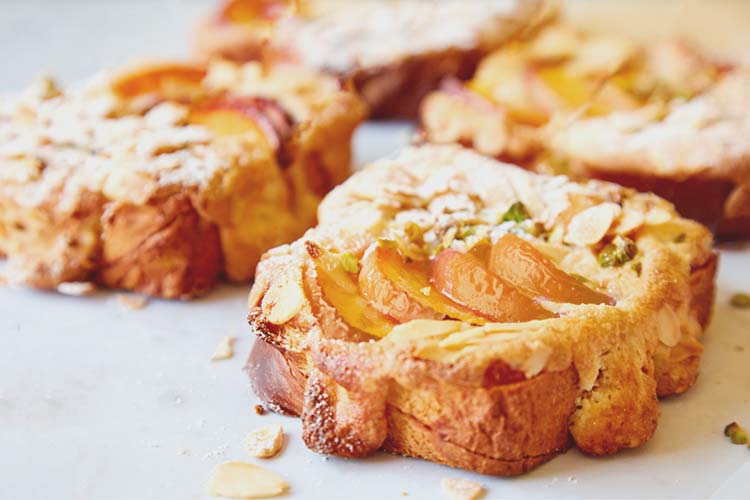 This Mother's Day, make a delicious impression with an elegant pastry that combines the delicate flavors of ripe mangoes, crunchy pistachios, and rich brioche.
With its golden crust and sweet aroma, all elevated with a silky almond frangipane, this homemade delight is a perfect way to create a memorable culinary experience for the special women in your life.
Mango and Pistachio Bostock
By Sarah Diebboll
Serves 4
INGREDIENTS
1 loaf day-old store-bought brioche or challah bread, cut into 1-inch thick slices
2 ripe mangoes, thinly sliced
1/4 cup pistachios, roughly chopped
1/4 cup unsalted butter, melted
1/4 cup granulated sugar
1/4 teaspoon almond extract
1/4 teaspoon vanilla extract
Powdered sugar, for dusting
For the Frangipane:
1/3 cup unsalted butter, softened
1/3 cup granulated sugar
1 large egg
1/2 cup flaked almonds
1/2 teaspoon almond extract
1/2 teaspoon salt
1 tablespoon all-purpose flour
INSTRUCTIONS
Preheat your oven to 350°F (175°C). Line a baking sheet with parchment paper.
In a mixing bowl, prepare the frangipane by creaming together the softened butter and sugar until light and fluffy. Add the egg and beat until well combined. Stir in the flaked almonds, almond extract, and flour until the mixture forms a smooth paste. Set aside.
Arrange the brioche slices on the prepared baking sheet. Lightly brush the slices with melted butter, ensuring to coat both sides.
Spread a generous layer of frangipane on each brioche slice. Top the frangipane with a few mango slices, and sprinkle with chopped pistachios. Press them gently into the frangipane to adhere.
In a small bowl, combine the granulated sugar, almond extract, and vanilla extract. Sprinkle this mixture over the peach slices and pistachios.
Place the baking sheet in the preheated oven and bake for about 15-20 minutes, or until the bostocks are golden brown and the mangoes are tender.
Once baked, remove the bostocks from the oven and allow them to cool slightly. Dust the tops with powdered sugar for an elegant touch.
Serve the bostock warm or at room temperature. They are perfect on their own or accompanied by a dollop of whipped cream or a scoop of vanilla ice cream.
Enjoy this delectable treat with your mom and celebrate a sweet Mother's Day!
Note: Feel free to adjust the quantity of mangoes and pistachios according to your preference. You can also drizzle a little honey over the bostocks before serving for extra sweetness, if desired.