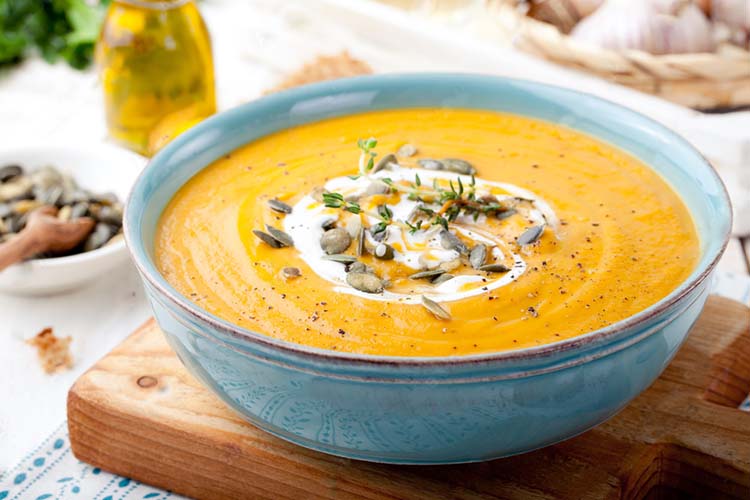 Winter is here, and one of the foods we most crave to brave the elements and remove the chill is soup. Delicious, nourishing and fast-acting! And not as difficult as you might think. Here are three recipes that yield big rewards with just a little bit of effort.
BUTTERNUT SQUASH AND CARROT SOUP
Makes 4 – 6 servings
You can use a 2 lb butternut squash, or make it easy with a 20 oz package of ready-to-use cut and peeled squash.
INGREDIENTS
1 tbs butter
3 cups peeled, cubed butternut squash
2 cups sliced carrots
¾ cup thinly sliced leek or chopped onion
1 quart low sodium chicken or vegetable broth
¼ tsp ground white pepper
¼ tsp ground nutmeg
¼ cup light cream
Optional Garnishes:
Crème fraiche or sour cream
Toasted pumpkin seeds
Fresh sprigs of thyme
INSTRUCTIONS:
Melt the butter in a large Dutch oven or covered saucepan over medium heat. Add the squash, carrots and leek or onion, and cook until just softened, about 8-10 minutes, stirring occasionally. Add the broth and raise the heat just until it all comes to a boil. Stir to make sure nothing is sticking to the bottom, then reduce to low heat, cover and simmer for about 30 minutes, until vegetables are tender. Remove from the heat and let cool for 10 minutes.
Place a third of the squash mixture in a food processor or blender. Process or blend until just smooth. Repeat in batches with remaining squash mixture, and then return all of the mixture to the saucepan. Add the white pepper and nutmeg and bring the soup just to boiling. Add the cream, heat through and serve immediately.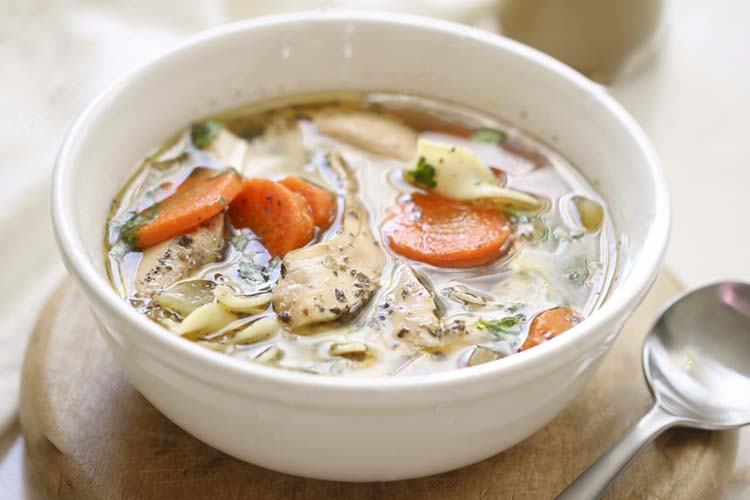 Chicken Noodle Soup
Makes 6 – 8 servings
Ingredients
1 whole chicken, about 3½ lbs
1 quart chicken stock
2 quarts water
2 medium onions, quartered
2 carrots, chopped coarsely
2 celery stalks, chopped coarsely
2 sprigs fresh thyme, or 1 tsp dried
6 parsley stems
1 bay leaf
2 tbs unsalted butter
4 oz button mushrooms, quartered
½ cup diced onions
½ cup sliced carrots
½ cup diced celery
2 tsp salt, or to taste
½ tsp freshly ground black pepper
8 oz dried egg noodles
2 tbs freshly chopped parsley leaves
Instructions
Rinse the chicken thoroughly inside and out under cold water. Place it in a large Dutch oven or covered stockpot, and add the chicken stock, water, quartered onions, chopped carrots, celery, thyme, parsley and bay leaf. Bring this to a boil, then partially cover and reduce heat, simmering for 1 hour.
Using tongs, carefully remove the chicken from the pot and set it aside until it's cool enough to handle and the meat easily pulls away from the bones. Strain and reserve the cooking liquid through a fine-meshed sieve or strainer, lined with cheesecloth if you have it. Discard the vegetables. Pull the chicken meat off the bones, and discard the bones, skin and any fat. Shred or dice the meat to your desired size and reserve.
In a clean stockpot, melt the butter over medium-high heat. Add the mushrooms and cook until just browned, about 3 minutes. Add the diced onions, sliced carrots and diced celery, and cook until softened, about another 2 minutes. Stir in the cooked chicken, then add the reserved chicken stock and bring to a boil over high heat.
Season the soup with salt and pepper. Add the egg noodles and simmer until the noodles are cooked. (Follow package directions, usually about 8-10 minutes.) Remove the soup from the heat, stir in the parsley, and serve immediately.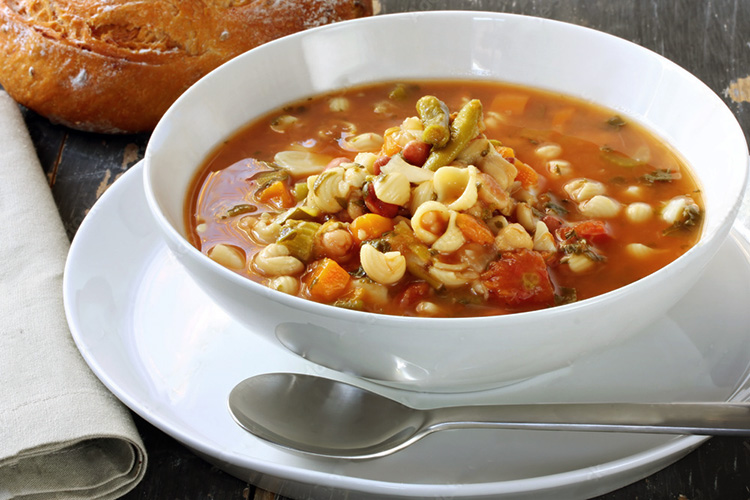 HEARTY MINESTRONE
Makes 8 – 10 servings
You can make a vegetarian version of this simply by switching to a vegetable stock and eliminating the pancetta. And if you also leave out the Parmigiano, it's vegan!
Ingredients
1 cup elbow macaroni, tubetti, or other small pasta shape
¼ cup extra virgin olive oil, plus extra for tossing the pasta and drizzling on top
6 cups chicken stock
¼ lb pancetta, ¼ inch thick slices cut into ½ inch wide strips
6 garlic cloves, cut in half lengthwise
2 cups finely chopped onions
1 cup finely diced celery
1 cup finely diced carrots
1 tbs finely chopped rosemary or thyme leaves, or 1 tsp dried
1 14 oz can cannellini beans, drained and rinsed
1 14 oz can diced tomatoes
4 cups diced zucchini (or mixed green and yellow squash)
2 cups peeled, diced Idaho potatoes
Salt and freshly ground black pepper
1 cup freshly grated Parmigiano Reggiano
Instructions
Cook the pasta according to package directions until al dente. Drain thoroughly, toss very lightly with olive oil to prevent sticking, and reserve.
Warm, but do not boil, the chicken stock in a large saucepan.
In another large stockpot or Dutch oven, heat ¼ cup of olive oil over high heat. When the oil is hot but not smoking, add the pancetta. Cook it until it begins to brown, about 3-4 minutes, turning occasionally. Add the garlic and cook for 1 minute, stirring occasionally. Lower the heat to medium, and add the onions, celery and carrots.
Cook until the vegetables are soft but not browned, about 8-10 minutes, stirring occasionally. Add the herbs, raise the heat to high, and add the beans, tomatoes, zucchini and potatoes. Add the chicken stock and bring to a boil. Reduce heat to a simmer and cook until the potatoes are tender, about 12-15 minutes, skimming any foam off the top of the soup. Just a few minutes before serving, add the cooked pasta. Season with pepper and salt to taste.
Serve immediately with extra olive oil for drizzling and the grated Parmigiano.