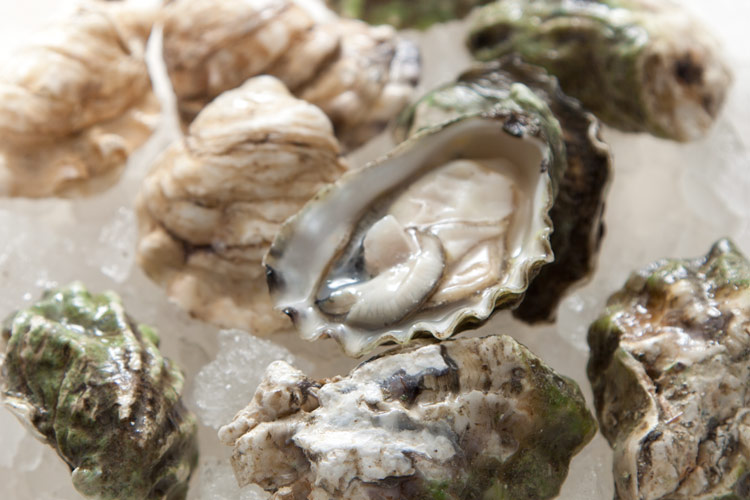 Ring in the New Year with a celebratory menu that'll set the tone for the rest of 2022!
We have a delectable variety of sustainable caviars that will add a little sparkle to your midnight festivities. Serve them on butter-soaked blini, on slices of cucumber with crème fraïche, or really spoil yourself and enjoy them all on their own, one sinful spoonful at a time.
We also have an array of oysters—from Kumamotos and Pickering Pass to Wellfleets and Montauk Pearls. We love them just served on the half-shell with a little squeeze of lemon or mignonette, but if you're feeling a little adventurous, try our exquisite and indulgent recipe for roasted oysters with a tarragon beurre noisette.
Scroll down to see our selection of sustainable caviar and oysters, and check out our suggestions for how to serve caviar at your New Year's Eve party.
Roasted Oysters with Tarragon Beurre Noisette
Serves 6
INGREDIENTS
1 dozen oysters, scrubbed well to rid them of any dirt that might be clinging to them
4 tbsp unsalted butter
Juice of ½ a lemon
2 tsp finely chopped tarragon
4 cups coarse rock salt
INSTRUCTIONS
Preheat your oven to the highest temperature setting with a rack placed in the middle.
Spread the rock salt out on a rimmed baking sheet, making sure that it's spread widely enough to fit all the oysters.
Place the sheet on the middle rack of the oven to preheat the salt for at least 15 minutes.
Once the salt is preheated, remove the pan from the oven and nestle the oysters, concave-side-down, in the salt.
Place the baking sheet back in the oven for at least 10 minutes, or until the oysters begin to pop open.
While the oysters are roasting, start the tarragon beurre noisette.
In a small saucepan, melt the butter over medium heat. Let it melt completely and then sizzle as the water from the butter begins to evaporate.
When the butter stops sputtering, turn the heat down to medium and watch it carefully as the milk solids begin to caramelize.
When the solids that have begun to separate from the butter have turned a rich, nutty brown and smell sweet and toasted, quickly add the tarragon and lemon juice and remove the pan from the heat. It's important that you don't overcook the milk solids or they'll burn and give the beurre noisette an unpleasant bitter taste.
Set the saucepan aside in a warm place until ready to use.
When the oysters have all opened, use the tip of a butter knife (or an oyster knife if you have one) to open each one. Discard the top shells and arrange the bottom shells on a warm platter.
Drizzle with the tarragon beurre noisette and serve while still warm and aromatic.
However you choose to serve them, we're sure that these delicious New Year's Eve treats will have you toasting your good luck all through the year ahead.
Sustainable caviar
ASIAN PREMIER
Acipenser gueldenstaedtii
Medium-size dark gray-black pearls with great pop and the classic vibrant and nutty Caspian Sea taste profile
$125 / 1 oz.
ITALIAN OSETRA
Acipenser transmontanus
Medium-size shiny black pearls, subtle and fruity
$75 / 1 oz.
$150 / 2 oz.
AMERICAN HACKLEBACK
Scaphirhynchus platorynchus
Small jet-black pearls, pleasantly buttery and sweet
$25 / 1 oz.
$50 / 2 oz.
$100 / 4 oz.
SALMON ROE
Large deep orange to red pearls with an intense, briny tang
$8.49 / 2 oz.
EAST COAST OYSTERS
WELLFLEET
Massachusetts
Plump, sweet, crisp, and clean
Market Price
MONTAUK PEARL
Long Island
Dense, pure, briny liquor
Market Price
IRISH POINT
Prince Edward Island
Tender, sweet, smooth finish
Market Price
WEST COAST OYSTERS
KUMOMOTO
Washington
Sweet, crisp, and briny with hints of honeydew
Market Price
PICKERING PASS
Washington
Smooth, sweet, fruity finish
Market Price
KUSSHI
British Columbia
Plump, buttery, rich, and slightly fruity
Market Price