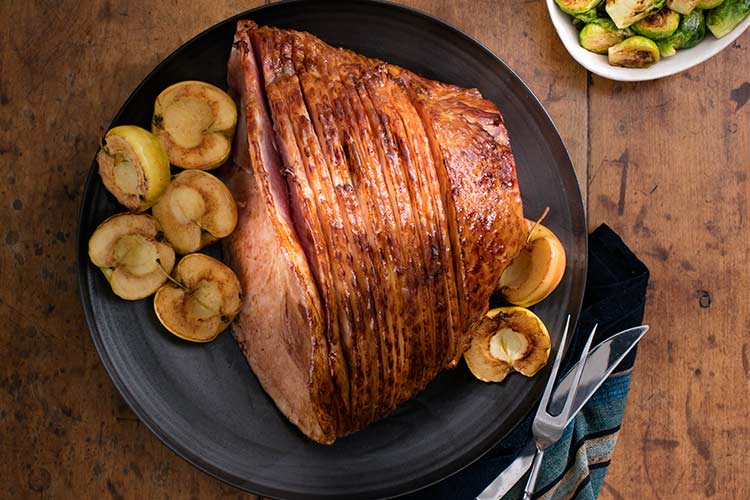 Deck the halls and decorate your holiday tables—Christmas is almost here! Celebrate the yuletide season with panache and put together a memorable holiday meal from our selection of prepared mains, side dishes, and desserts available at our Prepared Foods counter.
You'll find plenty of holiday cheer on our special Prepared Food menu; choose from succulent ginger and garlic glazed ham, creamy mashed potatoes, maple, and rosemary-brined turkey breast, and much, much more. We prepare everything from scratch using the finest ingredients in our Park Slope kitchen, and all will be available from December 20th until December 24th. (Don't forget, we'll be closed on Christmas Day, December 25th.)
As for dessert, we have a variety of options for traditional panettone, so you'll be spoiled for choice. We'll also have cakes and pies galore and delicious­­ gluten-free baked goods by Las Delicias Patisserie.
PREPARED MAINS AND SIDES
Available December 20 — December 24, 2022
at our Prepared Food counter
GINGER & GARLIC GLAZED HAM
$18.99 / lb
MAPLE & ROSEMARY-BRINED TURKEY BREAST
$21.49 / lb
CREAMY MASHED POTATOES
$7.49 / lb
GREEN BEANS WITH ALMONDS & SHALLOTS
$11.99 / lb
ROASTED BRUSSELS SPROUTS
$10.99 / lb
ROASTED BUTTERNUT SQUASH WITH CRANBERRIES & FETA
$11.99 / lb
RED WINE-POACHED PEARS
$2.99 each
DESSERTS
Desserts
PANETTONE
Flamigni
Rustichella
Tre Marie
Vincente
GLUTEN FREE
Trentasette Panettone
The Maine Pie Co.
PIES
Blue Duck Bakery
Steve's Authentic Key Lime Pies
CAKES
Kings Street Bakery
Junior's Cheesecake
Ladybird Bakery