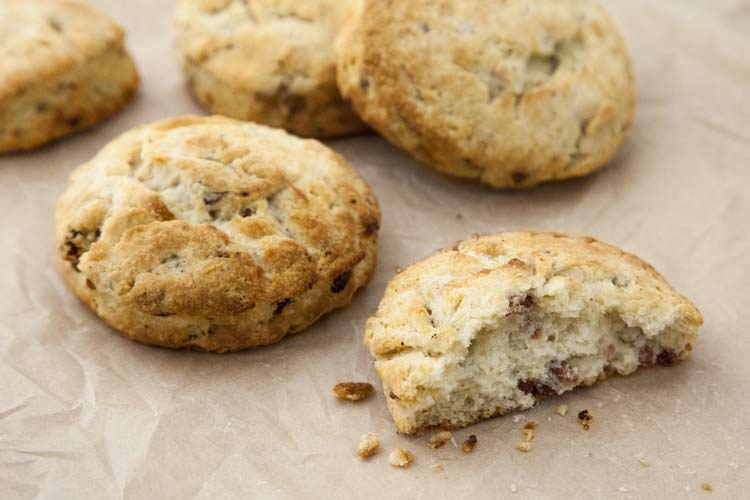 We love sweet cookies, cakes, and brownies as much as the next person, but for those days when you want the comfort of something fresh out of the oven but have a hankering for something more savory, these biscuits are just the thing.
They have a smoky flavor from crisp bits of fried smoked bacon and a little spark of heat from a dash of mustard powder. They're delicious all on their own, but we recommend serving them alongside soup or salad.
Or add them to any brunch spread and watch your guests swoon: you can't do better than a plate of warm, flaky biscuits served topped with crème fraîche, chives, and smoked salmon or alongside poached eggs.
Smoked Bacon Biscuits
Serves 4
INGREDIENTS
1 cup all purpose flour
2 tsp baking powder
1/8 tsp salt
½ tsp mustard powder
4 tbsp unsalted butter at room temperature
1 cup smoked bacon cut into thin strips
½ cup whole milk
1 tsp neutral oil such as canola to grease parchment
2 tbsp melted unsalted butter
INSTRUCTIONS
Preheat the oven to 450°F with a baking rack placed in the middle.
Line a baking sheet with parchment paper lightly greased with oil.
In a small frying pan, cook the smoked bacon over medium heat until it has rendered out all its fat and is crisp and golden.
Remove the bacon from the pan and pat dry. Set aside in a bowl until ready to use.
In the bowl of a stand mixer, combine the flour, baking powder, salt, and mustard powder and stir to mix well.
Add the softened butter and mix with the paddle attachment of the mixer until the mixture forms coarse crumbs, about a minute. Next, add the bacon and the milk and continue to mix for just 10–15 seconds longer on low speed.
Turn the dough out onto a floured work surface. Coat with the flour and shape the dough into a neat ball, making sure not to handle it excessively, or you risk overdeveloping the gluten in the dough and ending up with tough biscuits.
When the dough is no longer tacky, roll it out into a ½-inch-thick sheet.
Cut the dough into circles using a floured cookie cutter or another round shape with a sharp cutting edge. Press together any scraps remaining after the first rolling, recombine them, roll out again, and cut out more biscuits. Do not roll out the dough more than twice or your later batches will end up tough and chewy.
Place the biscuits on the prepared baking sheet. Using a pastry brush, brush the tops of the biscuits with the melted butter and bake in the preheated oven for 10–12 minutes, until a light brown on top.
Let cool for 5–8 minutes before serving.