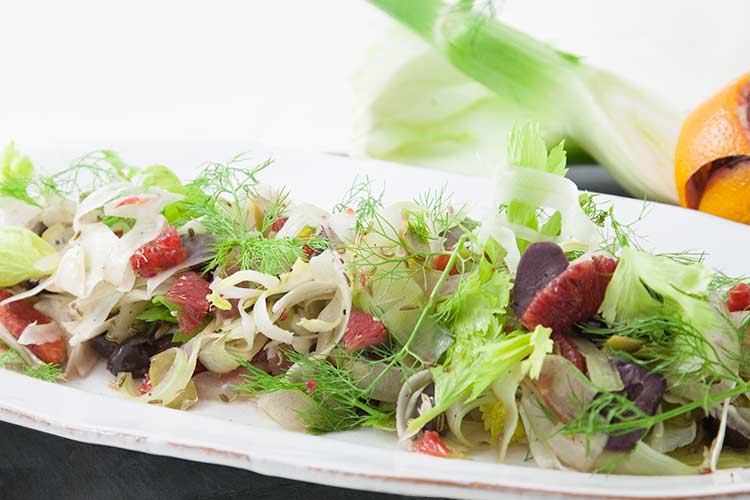 Celebrate the abundance of seasonal citrus fruit with a vibrant salad that's bright enough to chase away the wintertime blues. This recipe calls for blood oranges, but you can use any in-season citrus like grapefruit, Cara Cara, or navel oranges.
We love the combination of crisp fennel with refreshing citrus and briny olives in this salad. With its fresh flavors, colorful presentation, and easy assembly, this dish is perfect for entertaining. And you can prepare the main ingredients up to a day in advance. Simply cover and refrigerate the orange segments as well as the fennel and celery (in their ice bath) until you're ready to drain, assemble, and serve.
Shaved Fennel Salad with Blood Oranges, Celery, and Olives
Serves 4-6
INGREDIENTS
2 medium-sized fennel
 bulbs, preferably with fronds
4 celery stalks, peeled
5 blood oranges, with 3 tbsp of juice reserved
1 cup of pitted mixed olives, halved
2 tsp fennel seeds
3 tbsp extra virgin olive oil
1 tbsp red wine vinegar
Salt and white pepper to taste
½ cup celery leaves
½ cup fennel fronds or dill
Optional garnishes include:
Parsley leaves
Basil leaves
Fennel pollen
Capers
Crumbled bottarga
INSTRUCTIONS
Wash the fennel and peel off and discard any damaged outer layers. Cut into equal parts from the bottom root to the fronds and then shave into thin slices using a Japanese mandolin.
Cut the peeled celery stalks into 4-inch pieces and then shave lengthwise into thin slices with a mandolin, or cut on a thin bias with a chef's knife.
Soak the sliced fennel and celery in an ice water bath for at least an hour in order to keep them crisp. Soaking them will also cause the slices to curl a bit, which lends nice volume to your salad.
Peel the oranges with a sharp medium-sized knife and trim away the skin and pith. Remove the orange segments from the membrane over a bowl to catch the juices, which you'll reserve for the dressing. (Here's a handy step-by-step tutorial on how to segment citrus fruit.)
After you've removed all the segments, squeeze the leftover membrane into the bowl to extract the juice before discarding the membrane. Cover and set aside both the juice and the orange segments.
Just before serving, drain the fennel and celery well. Let sit on a paper towel for 5 minutes to dry off since too much moisture will prevent the vinaigrette from clinging the vegetables.
Combine the fennel, celery, orange segments and olives with the fennel seeds, salt, white pepper, olive oil, vinegar, and 3 tablespoons of the reserved citrus juice. You can save any remaining citrus juice for cooking or cocktails. Toss well.
Taste and adjust salt, pepper, and vinegar as needed. Add the celery leaves and fennel fronds or dill, and any other garnishes, if using, into the salad. Serve immediately.